Several observed a stunning rock on Melania Trump's finger in her old photos and couldn't help but be wowed with by it. Back then, or even up until a few hours ago, the world assumed that the famous engagement ring was bought by Donald Trump at half the price of its original cost.
Turns out, he lied. The POTUS claimed that he received a "celebrity discount" back in 2005 (when he proposed to Melania) but there was no backing from the jewelers he purchased it from. However, now, a new Forbes report debunks the famous "discount" claim revealing the business tycoon was rewarded no such benefits and he paid the ring's full amount upfront.
Also read: Quack goes Melania: Donald Trump's wife and her 'duck feet'-starring Aflac ad resurfaces online [Video]
Ba-da bling!
Sitting on her lean hands, Melania's stunning rock is courtesy Graff Diamonds and is worth $1.5 million, the Times reported. The ring weighs more than 10-carats. It is a gorgeous emerald cut D-flawless diamond and made an uproar among the media in 2005.
Love the way you lie
In reports following the purchases, Trump claimed he got a $1 million dollar discount while making the purchase. He lied that he received a "celebrity discount." "Only a fool would say, 'No thank you, I want to pay a million dollars more for a diamond,"' Trump said "proudly" at the time.
His lie was debunked almost one and half decade later by the jeweler. Revealing the truth in an email, Graff Diamonds' billionaire chairman Laurence Graff clarified that the present POTUS was given "no favors," on the ring. The Forbes report also said that Graff added that Trump was "a pleasure to do business with."
While there was no discount provided to the business tycoon back then, Newsweek reports that Graff Diamonds saw a surge in customers after Trump purchased the ring.
Show me the money!
Apart from the clarification, the report also discloses that Trump paid in full and upfront. An unnamed source associated with the transaction revealed that "He paid for [the ring] in full, and he paid immediately."
Shine bright like a diamond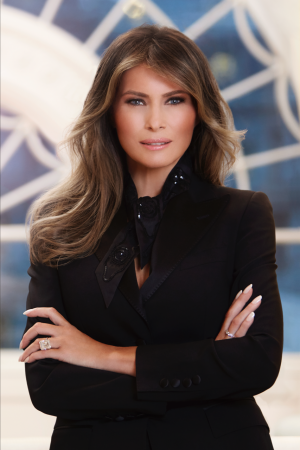 This is not the only Graff diamond purchase Trump has made for his lady love. On the occasion of their 10th anniversary with the FLOTUS, Melania was gifted a jaw-dropping 25-carat ring which costs about $3 million. She flaunted the stone in her official White House portrait and was criticised for it.