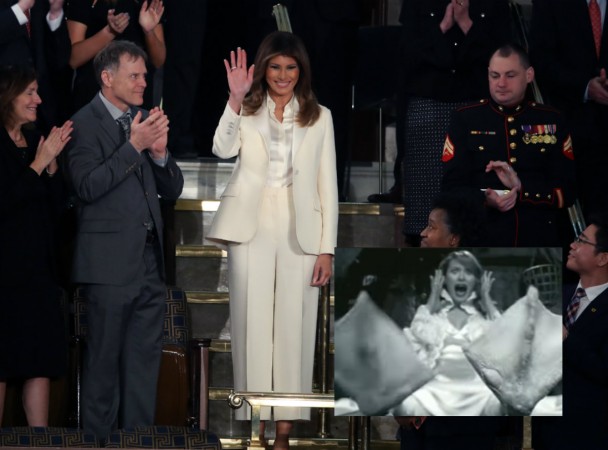 There are several deep dark secrets on the internet. And once they are revealed, those sneaky little videos, clips or images take no time to resurface no matter how hard you try to suppress them. The most recent example of this is Melania Trump.
Although Melania has been in the headlines for her troubled relationship with Donald Trump – her choice to wear an all-white attire for an all-black SOTU, her decision to remain seated when Trump spoke about "faith and family," and more – she got the internet gagging as a video from the FLOTUS' past landed on Twitter and is going viral.
Also read: Dear Michelle Obama, here's how Twitter thinks you could have handled the awkward 'gift situation' better
Melania's past caught up with her, and she has the POTUS to thank it for. A weird advertisement for Aflac insurance featuring Melania is going viral online after Donald Trump brought it up during an interaction with an Aflac official who was visiting the White House to meet him.
"Your chairman I know very well, and he's done a fantastic job," Trump said. (Dan Amos is Aflac chairman/CEO.) "He actually a long-time ago hired my wife (Melania) to do a big commercial, an Aflac commercial, and I think it was a successful commercial, too," USA Today quoted him as saying.
The video Trump was talking about dates back to 2005, when Melania aspired to become a successful actress. The black-and-white ad is titled "Experiment" and sees Melania lauded for her sex appeal. A mad scientist in the video then trades Melania's voice with the Aflac duck's voice and the beautiful FLOTUS wakes up to find her legs turned into webbed feet.
Melania had just married Trump in 2005 and was extremely hopeful about her acting career. "I am very excited to make my acting debut in the latest Aflac commercial. Donald is known for saying, 'You're fired,' and maybe I will be known for saying 'Aflac'," Melania said at the time, according to AdWeek.
Oh well, she will definitely be known for her Aflac ad for a while now, considering the social media attention that the ad is garnering.