Researchers in Australia have discovered the tattered remains of a mummy in a 2,500-year-old Egyptian coffin, which was previously thought to be empty.
According to Reuters, the coffin, acquired by the University of Sydney 150 years ago, was never studied because it was classified as empty by the university academics. But the error was rectified last year when another group of academics removed the lid of the coffin and found the remains of a mummy, which they believed to be of an Egyptian priestess.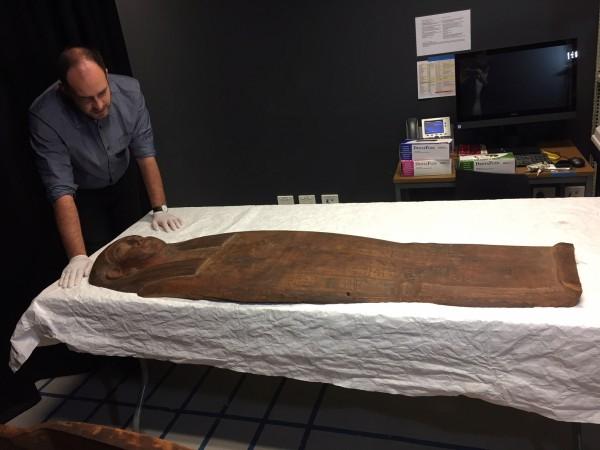 "The records previously said the coffin was empty or with debris...There is a lot more to it than previously thought," said Jamie Fraser, the lead investigator and senior curator at Nicholson Museum, at the University of Sydney.
The hieroglyphs of the sarcophagus indicate that the occupant of the coffin was a woman Mer-Neith-it-es, who was either a priestess or a worshipper from the temple of the goddess Sekhmet.
What is a Sarcophagus?

A sarcophagus is a coffin made of limestone, often decorated with inscriptions or cultures of ancient civilizations of ancient Greece, Egypt or Rome. This kind of coffin was usually displayed above the ground.
"We know from the hieroglyphs that Mer-Neith-it-es worked in the Temple of Sekhmet, the lion-headed goddess," Fraser told Reuters. "There are some clues in hieroglyphs and the way the mummification has been done and the style of the coffin that tell us about how this Temple of Sekhmet may have worked."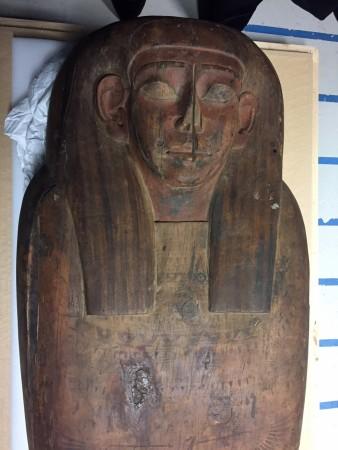 University of Sydney's Nicholson Museum took to Facebook to explain about the sarcophagus, "The coffin of an ancient Egyptian priestess called Mer-Neith-it-es, which had most recently sat in our education room, underwent a series of scientific and visual analysis. The coffin and the mummified remains were scanned and the damaged remains of the body excavated."
The sarcophagus along with three other ancient Egyptian coffins, from the sixth century BC, had been purchased by Sir Charles Nicholson, a former chancellor of Sydney University, from an Egyptian antiquities market at around 1860, as per records.
After opening the coffin in last summer, Fraser and his teams discovered human bones, resin fragments, bandages and thousands of glass beads which prove that the coffin was certainly not empty in all these years. Researchers already performed a detailed computed tomography (CT) and a laser scan for 3D modeling purposes last week.
"We can start asking some intimate questions that those bones will hold around pathology, about diet, about diseases, about the lifestyle of that person - how they lived and died," Fraser is quoted saying by The Sydney Morning Herald.