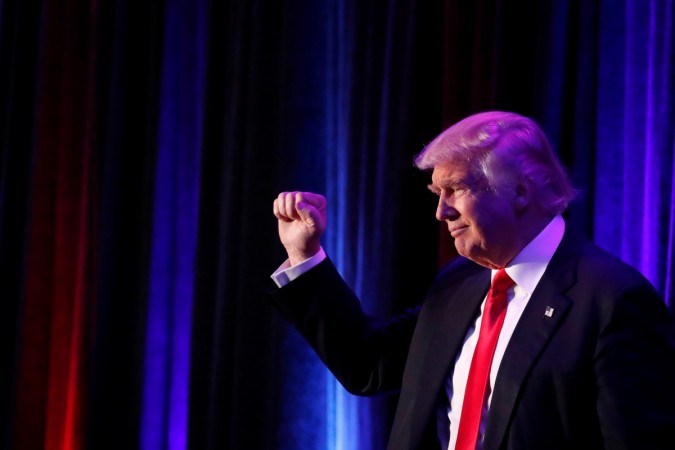 Donald Trump, the Republican presidential nominee, was on Wednesday elected the 45th President of the United States of America. Trump, who will take over from Barack Obama, has in the last 18 months made some claims about abolishing Obama policies, altering trade negotiations and formulating new diplomatic ties with "friendly nations."
The November 8 elections which saw the surprise win of Trump will bring about some changes; let us take a look at what his win could mean for India and impact on other things:
Impact on India
Donald Trump's agenda of "America first" and his plans to alter foreign trade deals is likely to affect trade treaties, especially with India. During his campaign trial, Trump had said that he was against outsourcing jobs to other countries and this move could put an end to the H1B visa programme. This means, the Indian IT sector stands to lose out millions of dollars due to changes in visa policy.
Trump's plan of "bringing back jobs to America" and his aim to reduce corporate tax from 35 percent down to 15 percent may result in other firms relocating back to the US - causing a dent in Prime Minister's Narendra Modi's "Make in India" campaign.
However, as a contradiction to his earlier diplomatic stands, (over the past few months) Trump was seen trying to woo Indian entrepreneurs and Indian students to study in the US. Being a businessman, Trump's stance on business and economy could push Indo-US businesses as well.
Policy changes
The president-elect maintains that Obama's signature health care reforms must be "released and replaced," the Financial Times reported. Although Trump has not laid out any alternative plan, he maintained that he would encourage competition between markets.
Trump, who also faced sexual assault allegations, has previously called for a ban on Muslims entering the US and the deportation of illegal immigrants. In May, Trump had said that he would "cancel" the historic Paris climate deal, which more than 195 countries had pledged, to cut down on carbon emission in an agreement last year, the BBC reported.
In terms of foreign policy, unlike Obama, Trump has said that he is open to both South Korea and Japan developing nuclear arsenals. He also says that the US' nuclear deal with Iran would be "restructured." Additionally, Trump plans to bring about fundamental changes to the Nafta pact with Mexico and Canada and plans to impose heavy taxes on imports from China.
What remains to be seen are the implications of Trump's policies on diplomacy, trade and the future of world's most powerful nation.