What! Brad Pitt is crushing over a 21-year-old Angelina Jolie-lookalike!
According to a recent report by In Touch, the 53-year-old Hollywood actor is falling for 21-year-old actress Ella Purnell, who has portrayed the younger version of Angelina Jolie in Maleficent (2014).
Also read: Is there a squabble going on between Angelina Jolie's sons Maddox and Pax?
She was recently cast in the lead role of Starz's upcoming TV series "Sweetbitter," which is being produced by Pitt. Hence, In Touch claimed that Pitt has been smitten by Purnell's performance in the movie so he cast her in his new series.
"He's so enchanted," the source told In Touch.
"Brad had Ella in mind from the get-go. He went out of his way to cast her," the source added. "Ella is incredibly flattered by all the attention she's getting from Brad. She's told friends he's always been her No. 1 celebrity crush."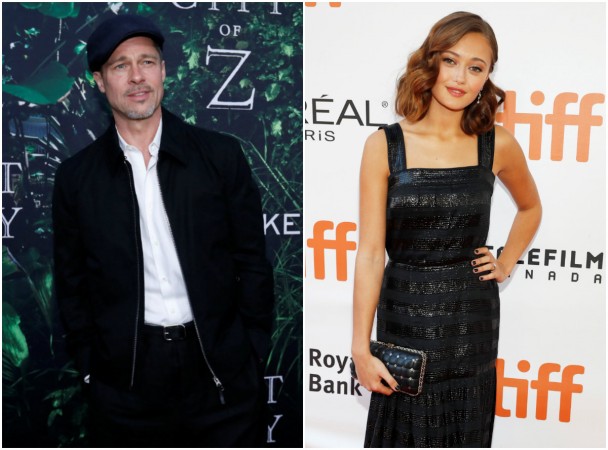 The report also explained that Angelina Jolie is reportedly being furious about Brad falling for someone who is 32 years younger than him and "her [Purnell] being cast in Sweetbitter."
"She absolutely hates that Brad is cavorting with someone who played the teenage version of her in a film," the insider added.
"[Brad] realizes the huge age difference and that everyone would look at the relationship as a midlife crisis mistake," the source explained.
But according to the insider, Brad's attraction to Ella is more than just physical. "He's taken with Ella's spunky, funny demeanour or and formidable acting skills."
"It's only a matter of time before Brad takes their relationship to the next level," the source added.
Meanwhile, another website named Gossip Cop looked over the matter. The website, which is better known for rubbishing these kinds of rumours, claimed that this story is 'entirely fabricated.'
Ever since Brangelina split happened, a few websites including In Touch, Hollywood Life are consistently reporting many stories on these two Hollywood A-listers and their current relationship status.
This particular report was seemingly concocted simply because Pitt is coincidentally working with a young actress who played his estranged wife in a movie, noted Gossip Cop.