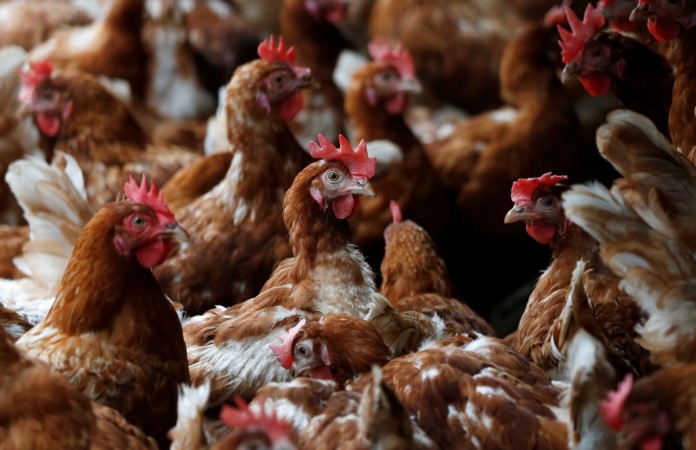 An outbreak of bird flu has been reported in Bengaluru city of Karnataka, India, five years after an avian influenza virus scare affected the city.
The Health Department has already started taking precautionary measures. The officials are screening meat stalls in various parts of the city, including KR Market and Shivaji Nagar.
The Health Department officials have also alerted the zoo authorities near Karanji Lake Nature Park and Mysuru to take precautionary measures.
Also read Bird Flu resurfaces in India: Culling, other measures recommended for Odisha village after H5N1 outbreak
Meanwhile, the Animal Husbandry Department has sealed many of the meat stalls around Dasarahalli, wherein a dead chicken is being confirmed to be infected by the deadly virus.
A total of 11 districts in Maharashtra have also been put on high alert as the neighbouring state is being reported with an outbreak of bird flu.
What is bird flu?
Bird flu, which is also called avian influenza, is a contagious viral infection that can infect birds, humans and animals. There are three types of influenza viruses that can be deadly for both birds and humans. Among them, H5N1 is one of the most common types of bird flu that can easily affect humans.
Transmission of bird flu
Human transmission of bird flu has not been reported yet. Humans are primarily infected through contact with contaminated environments or infected animals. Poultry preparation for consumption, defeathering, slaughtering and handling carcasses of infected poultry can also cause transmission of avian influenza viruses.
Signs and symptoms of bird flu in human:
Avian influenza viral infection in human could cause various diseases ranging from gastrointestinal problems to respiratory infections. While vomiting, nausea and diarrhoea are some of the most commonly reported symptoms of H5N1, mild upper respiratory infection, acute respiratory distress syndrome, rapid progression, severe pneumonia and even shock and death can be caused due to Avian influenza.
Some of the most common initial symptoms of bird flu are high fever and cough followed by difficulty in breathing. Encephalitis, abdominal pain, chest pain and bleeding from the nose or gums are also reported by some of the patients, according to World Health Organisation.
Treatment of bird flu:
Zanamivir and oseltamivir are the two most common types of antiviral medications that can be used to reduce the severity of bird flu. However, these medications should be consumed within 48 hours after the person gets infected with the virus.
The treatment of bird flu is recommended for a minimum of five days and it could be extended depending on the clinical improvements.
Antiviral medications, such as rimantadine and amantadine, can be used to develop resistance. However, these medications cannot be used for treatment.
Prevention of bird flu:
Some of the preventive measures for bird flu include good respiratory hygiene, regular hand washing and avoiding physical contact with sick people. Bird flu can also be prevented by avoiding contact with birds in the live poultry market, slaughtering areas, poultry farms and infected people.
Consuming undercooked poultry should also be avoided to keep this fatal disease at bay. Early self-isolation is also an important part of prevention.