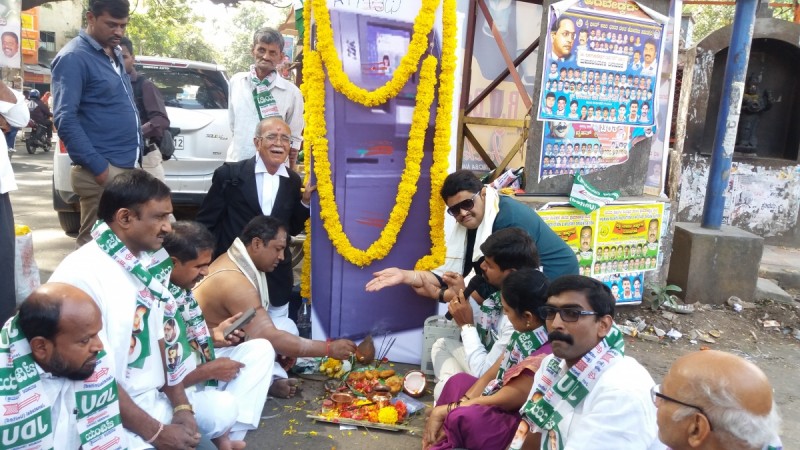 Members from the Karnataka unit of the Janata Dal (United), or the JD(U) conducted the last rites of the automated teller machine (ATM) on Friday, because many of them had been rendered either cashless or out of order in the aftermath of the demonetisation move by Prime Minister Narendra Modi, who had scrapped the old Rs 500 and Rs 1,000 currency notes from November 8 midnight.
Speaking to International Business Times, India, JD(U) Karnataka general secretary S Ashwath Narayan said that the last rites of the ATM had been conducted as per Hindu religious norms, apparently because they had been rendered useless by the demonetisation move.
The Central government has already said that more than 10,000 ATMs were being recalibrated every day so that they could dispense with the new Rs 500 and Rs 2,000 currency notes, but many ATMs across the country are still not functional, with tags like "Out of Order" or "No Cash" displayed in front of the kiosks.
Narayan told IBTimes India: "The poor and the middle class are suffering due to the directive of the Central government. Whenever one goes to the ATM, it is either out of order or has no money. Go to banks, and there are limits to how much you can withdraw."
That was the reason, Narayan said, that the life-size image of an ATM was used to conduct the last rites of the machine at 11 am at the State Bank of Mysore Circle in Central Bengaluru on Thursday. "The event was attended by 80 people — all of them activists of the JD(U)," said Narayan.
The Karnataka JD(U), however, is not planning any more such protest in the near future, or at least till December 30 — the deadline given by Modi for exchange or deposit of old Rs 500 or Rs 1,000 notes. "Our future course of action will be determined by the party leadership," Narayan told IBTimes India.