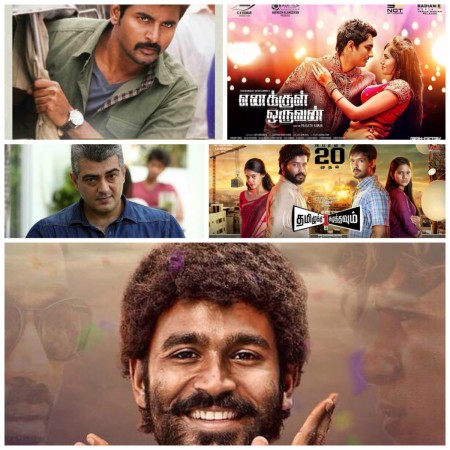 The latest box office collection of Tamil movies in Chennai are out. Though the exact collection figures are still awaited, this weekend's numbers suggest that Siva Karthikeyan's latest flick "Kakki Sattai" continues to lead in theatres in its second weekend too.
It is followed by the latest movie "Ennakul Oruvan" starring Siddharth. At the third place is Dhanush movie "Anegan", followed by Nakul's "Tamizhukku En Ondrai Azhuthavum" and Ajith's "Yennai Arindhaal" in fourth and fifth positions respectively.
The news of Siva Karthikeyan movie leading in the Chennai box office despite the release of nearly ten movies in the weekend has been received well by the young star's fans. The makers of the movie are now awaiting the weekend box office collection as the movie is turning out to be the biggest for Siva Kartikeyan. [Read Review of 'Kakki Sattai' Here]
Meanwhile, "Enakkul Oruvan" had received some overwhelming response from the critics, especially for the performance of lead actor Siddharth. However, the movie is considered by many as non-linear movie and not as a full-fledged entertainer. This in a way has affected the percentage of theatre occupancy in the first weekend.[Read Review of 'Enakkul Oruvan' Here]
When it comes to Dhanush's "Anegan", the movie has reportedly managed to maintain a decent run in the weekends. The movie is now on 25th day in theatres and continues to have good theatre presence and the makers are hoping the movie will continue to hold this run till its fifth weekend. [Read Review of 'Anegan' Here]
"Tamizhukku En Ondrai Azhuthavum" which has bagged the fourth position is the weekend box office had received mixed response from the critics. The movie which was released on 20 February has also managed to pull off not so poor theatre occupancy in its third weekend also.
Meanwhile, Ajith's "Yennai Arindhaal" has lost out on many screens in its fifth weekend because of the release of many big movies like "Anegan", "Kakki Sattai" and the latest flick "Enakkul Oruvan". Industry analyst is now waiting to see if the movie can sustain its screen count in the coming week too. [Read Review of 'Yennai Arindhaal' Here]
Top 5 at CBO (Mar 6 to 8) No.5 Yennai Arindhaal, No.4 Thamizhukku En Ondrai Azhuthavum, No.3 Anegan, No.2 Ennakul Oruvan,No.1 Kakki Sattai.

— Sreedhar Pillai (@sri50) March 9, 2015