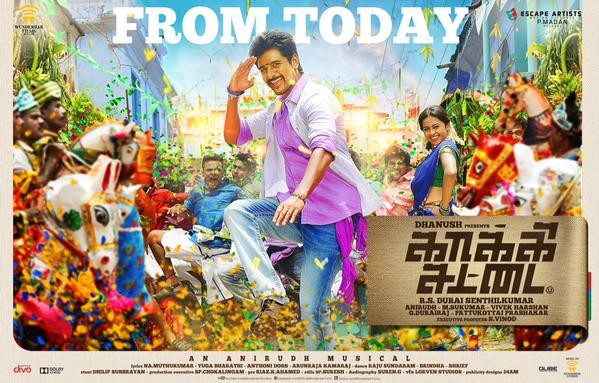 IB Times, India Rating:3.5
Not always do you get to watch a neatly trimmed action masala flick from the Tamil industry. But this latest Siva Karthikeyan movie, "Kakki Sattai" is a neatly trimmed two and a half hour joy ride without any lag. Thanks to director Durai Senthil Kumar for bringing out an engaging flick, which will not leave the audience bored for even a minute.
The story of the movie revolves around police constable Mathimaran (Siva Karthikeyan) who is new to the service. While he has an urge to do something new and good for the society, he soon realises that he has entered a dirty job and is nowhere close to his convictions.
He feels disgusted and appalled by the dealings of his senior officials with the criminals and how the police service and judiciary bow their heads to those who have good deal of money and power. How he finds a way to solve issues of corruption in the law and order system in the department of police forms the crux of the story.
In terms of the story line "Kakki Sattai" does not have too much of freshness. However, the movie was able to tickle the funny bones of the audience as well thrill them with some typical heroism in fight sequence.
The story in fact gains momentum by the interval and the director has also managed to wrap up the movie without much glitch. "Kakki Sattai" has all elements that was expected to be seen -- well-timed comedy, stunt and chase scenes, punchy one liners, colourful mass songs and a romantic song sequences shot in the most beautiful European locations.
One thing that is obviously amazing throughout the movie is the performance of lead actor Siva Karthikeyan. The movie belonged to him hands down. The actor was confident and at ease with his dialogues, but we just wish that the director could have added more depth to the character of Mathimaran.
Same was the case with the role of Durai played by Vijay Raaz, which had too much of build up in the initial narrations but ended up as yet another cliché villain of any other masala movie.
Prabhu, Sri Divya, Agilan Elamkovan, Manobala, Nagineedu, Imman Annachi, Kalpana and Manobala have done their parts well.
Background score by Anirudh Ravichander gives extra flavour to the movie especially during the stunt sequences and pacey chase scenes.
Coming to the other technicalities, cinematographer M Sukumar and editor Noor Azwan have delivered their best for a fast moving masala Tamil entertainer.
Overall, "Kakki Sattai" is a decent masala mass entertainer and if you enjoy this genre, you can definitely hit the theatres and enjoy your time with this entertainer.