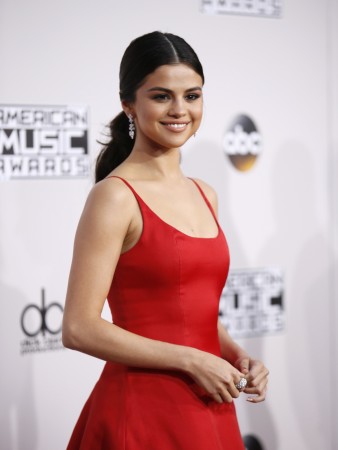 American actress cum singer Selena Gomez is reportedly planning to take her relationship with Canadian singer Abel Makkonen Tesfaye a.k.a The Weeknd to next level. The former Disney star is likely to announce the wedding after The Weeknd wraps up his ongoing Starboy tour in May.
Read: Selena Gomez and The Weeknd resemble her parents when they were young
Justin Bieber's ex-girlfriend apparently admitted her feelings for the 27-year-old Kiss Land singer to her close friends and hinted at wedding plans. According to an industry insider, Selena informed her friends that Abel is her first boyfriend with whom she wants to start a family.
A source close to the 24-year-old Good For Your singer stated that she will be flying to Canada in May to meet The Weeknd's family and cheer him up during his live concert tour in Toronto. The informer even stated that Selena is also planning to introduce Abel to her family members in Texas.
"She knows it's still early days, but she's never felt this way about someone before. It's just, right. All her friends are joking about going to buy new dresses for their wedding, everyone thinks he really could be the one," The Hollywood Life quoted the industry insider.
Another source revealed that the celebrity couple are constantly in touch with each other through text messages, phone calls and video chats, "They are always a moment away from each other and they make it very easy to get a hold of one another," added the person.
Meanwhile, there are also reports about Selena's plans to appear in The Weeknd's next video album. According to the industry insiders, the former Disney star was jealous of watching him dance around gorgeous models. In order to keep an eye on him, she decided to work with Abel in his next project.