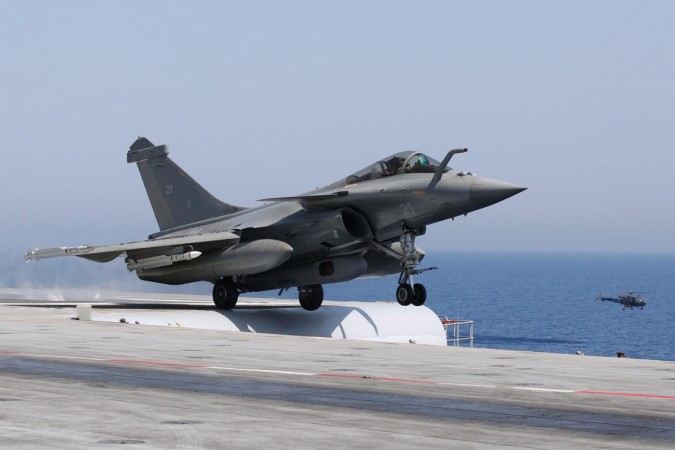 Hindustan Aeronautics Limited had the ability to locally produce Rafale fighter aircraft had the government closed negotiations and signed a work-share agreement with the plane's French manufacturer Dassault, says the recently retired head of the Bengaluru-based aerospace and defence company.
T Suvarna Raju admitted that HAL may not have built the aircraft at the desired price, one of the reasons the deal didn't go through, but he said the company had the technical know-how to build cutting-edge combat aircraft.
Raju says HAL has built the Sukhoi Su-30 MKI, which forms the mainstay of the Indian Air Force, from the ground up and would have definitely built the Rafale.
This is the first time anyone from HAL has commented on the Rs 59,000 crore Rafale deal, which has been mired in controversy with the Congress and BJP involved in a slugfest.
Defence Minister Nirmala Sitharaman on Tuesday said HAL was dropped from the deal after it and Dassault couldn't come to an agreement on producing the aircraft in India when the Congress-led UPA was in power.
After UPA failed to buy 126 Rafales, 108 of which were planned to be manufactured by HAL, NDA signed a deal with the French government to acquire 36 Rafales in 2016.
Raju says HAL has been maintaining the Mirage 2000 fighter plane, also manufactured by Dassault, since the last 20 years and at the moment is involved in upgrading it.
On the issue of the cost of the Rafale assembled by HAL being higher, Raju said though the initial cost of the plane would have been higher, the lifespan costs of the plane would have been much cheaper and local manufacture would have given a boost to self-reliance.
The other issue being that HAL couldn't make the fighters fast enough, Raju said HAL would be on a learning curve and initially they would take a longer time to build the jets compared to Dassault.
Another sticking point was Dassault saying they couldn't guarantee the Rafales built by HAL. Raju said if HAL made the aircraft it would give full guarantee for every piece it manufactures.
"Dassault and HAL had signed a mutual work-share contract and handed it over to the government and it would be better if the government makes those files public so the truth can come out," says Raju.
The former chief of the air staff, Air Chief Marshal AY Tipnis, says building Rafales in India was beyond the capabilities of HAL though the transfer of technology from Dassault would have made it possible.
"HAL always promises more than it delivers and their quality of work has been sub-standard. It also backtracks on promises," Tipnis told Hindustan Times.
According to a Ministry of Defence official, pricing and guarantee were the issues which derailed the building of the planes by HAL.