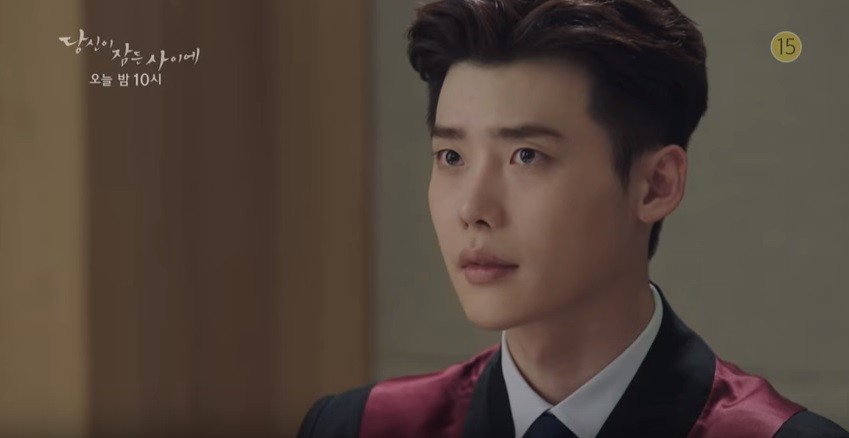 The SBS romantic thriller While You Were Sleeping will be back with episodes 23 and 24 this Thursday, November 2, at 10 PM KST. These episodes will take the viewers through a courtroom drama between prosecutor Jung Jae Chan and defence attorney Lee Yoo Beom.
Thanks to news reporter Nam Hong Joo and police officer Han Woo Tak, the prosecutor is very careful while dealing with the case of an assistant teacher. The assistant teacher was apparently killed by his professor and Jung Jae Chan will have to do an autopsy to prove the murder.
But the problem is that the victim has agreed to donate his organs and seven people are waiting for it. If an autopsy is done then the organs cannot be donated. Since the case is very sensitive, the prosecutor does some search on similar cases before making the decision.
Also read Watch Hospital Ship episodes 39, 40 (finale) live online
Jung Jae Chan finds out that an autopsy can be done during organ transplant in rare cases and this case falls under that category. He discusses the matter with chief prosecutor and gets his permission to move forward. Now, the biggest question is if he will succeed in sending the culprit behind bars.
The preview for While You Were Sleeping episodes 23 and 24 shows Jung Jae Chan and Lee Yoo Beom putting forward their arguments in court. While the prosecutor says, "I want this plaintiff to get sentenced for the murder, the defence attorney counter argues.
"If there is no evidence it's not valid. That's why my client has no responsibility for the victim's death and they can't ask for the claims. So plaintiff is not guilty," Lee Yoo Beom says in the footage.
The promo then shows Jung Jae Chan making a promise to the victim's father that he will surely send the culprit behind the bars. The video also shows the prosecutor and the defence attorney challenging each other outside the courtroom.
Watch the trailer below:
Click here to watch While You Were Sleeping episodes 23 and 24 tonight at 10 pm KST on SBS. The mini-series will also be available online on video-streaming sites Viki and DramaFever.