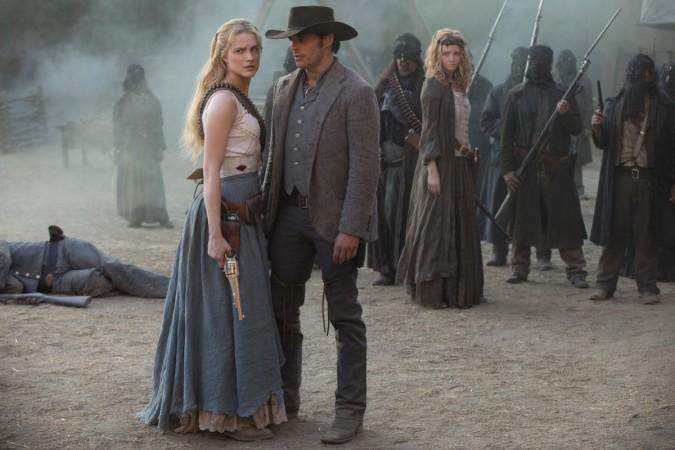 HBO has released a new trailer and a some pictures of the third episode of Westworld season 2, which gave the viewers a sneak peek into the upcoming episode named Virtù e Fortuna (which translated to Virtue and Fortune).
The short trailer begins with Dolores Abernathy's (Evan Rachel Wood) voiceover. It says, "The world out there is marked by survival. By a kind who refuses to die."
With her voiceover in the background, the Delos security team is seen driving into Westworld to take over the park. The third episode of the season seems to witness some pure action.
On the other end, host Angela (Talulah Riley) also gets ready with a rifle as she, Dolores along with other people also prepare to take on their enemies.
While one of the photos released by HBO shows that Bernard Lowe (Jeffrey Wright) will be judged by Dolores as he will be seen lying on the ground, covered in dust.
The trailer also shows an intimate conversation between Dolores and Bernard, where she asks him, "Shouldn't we too try to survive?"
Other than that, the trailer also featured a montage of shots of a tribe of native Americans preparing to attack the opponent, a sad Maeve Millay (Thandie Newton), and Hector Escaton (Rodrigo Santoro) getting ready for a battle.
The trailer concludes with a voiceover of Dolores again, saying: "Truth is, we don't all deserve to make it."
Westworld season 2 episode 3 will air on HBO Sunday, May 6 at 9 pm ET. It will also air on Sky Atlantic Monday, May 7 at 2 am GT.
You can watch it live online on HBO Go and HBO Now. Later it will premiere August 24 on Star World and Star World HD in India.