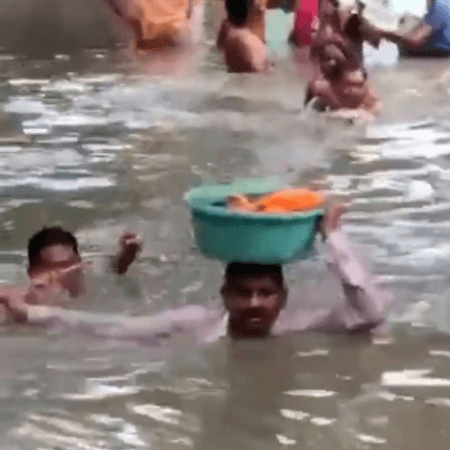 Large parts of Vadodara were submerged on Thursday after torrential rains lashed the city and the Vishwamitri River overflowed, triggering flash floods across the city. Nonetheless, vignettes of heroics emerged amid the gloom of an unusual crisis.
Many locations were flooded and the rescue operation was on to move the residents to safer places. Among those marooned were a young mother and her one-and–a-half-year-old daughter. It was then a brave police officer came to the rescue of the mother and child. The officer, identified as sub-inspector Govind Chavda, waded through neck-deep waters and carried the little girl in a basket placed on his head. He also rescued the mother as well.
The incident happened at Devipura locality near Vishwamitri railway station on Thursday.
In the video, sub-inspector Chavda is seen walking through the water, holding the tub in one hand and a rope in the other. Chavda then crossed the road and handed the baby safely to people on higher grounds.
"I and other members of the team had to walk through flooded roads to reach Devipura. We tied a rope to a pole so that people could move by holding on to it as the water was neck-deep," Chavda was quoted as saying by Press Trust of India.
"We learnt that a baby girl and her mother were trapped in a flooded house. I asked the woman to give us a plastic tub because it was difficult to place the girl on my arms safely," the sub-inspector added.
Explaining how he rescued her, Chavda said that he and others put some clothes and bed-sheet in the small tub and placed the child in it. He then had to battle neck-deep waters while carrying the baby in the tub above his head.
"I placed the tub on my head and walked through five feet-deep water for 1.5 km to take her to a safer place. The mother was also rescued," Chavda said.