Citizens woke up to submerged roads and waterlogged tracks as incessant rains triggered a flood-like situation in Vadodara on Thursday, August 1. The heavy downpour has forced shut-down of the Vadodara airport and cancellation of around 22 trains.
The city received a staggering 442 mm of rainfall in just 12 hours which brought life to a standstill.
India Meteorological Department (IMD) has forecast heavy rains at isolated places over Gujarat. Heavy showers will continue for the next two days, IMD has warned.
Schools and colleges in the city will remain closed on Thursday.
Meanwhile, the National Disaster Response Force (NDRF) teams have been deployed to carry out the relief and rescue operations. The NDRF personnel shifted people from low lying areas to safer locations.
Live Updates
2019-08-0115:36 (IST)
WATCH | Giant crocodile swims on Vadodara road
It has been reported that a large number of crocodiles have entered Vadodara, creating havoc.
Sharing a video, a Twitter user showed waterlogged street, in which stray dogs tried to escape a crocodile. Watch the video here:
2019-08-0115:32 (IST)
5 trains cancelled due to heavy rains
5 trains cancelled, 2 trains short terminated and 2 trains short originated due to heavy rains and water-logging, in Vadodara Junction railway station and surrounding areas.
2019-08-0112:16 (IST)
Emergency numbers
An emergency control room was made available in Vadodara for 24-hour. The numbers -- 18002330265, 0265 2423101 and 0265 2426101 -- has been given by the authorities for the assistance of the flood-affected people.
2019-08-0111:37 (IST)
Netizen shares heart-wrenching video of Zomato delivery agent who got stuck in rain
2019-08-0111:33 (IST)
Flight operations suspended at Vadodara airport till 3 pm
Due to waterlogging and garbage accumulation on the runway, flight operations have been halted at Vadodara Airport till 3 pm.
2019-08-0110:52 (IST)
NDRF teams deployed
The NDRF personnel rescued people in Vadodara who were stuck due to flash floods in the city due to a massive rainfall.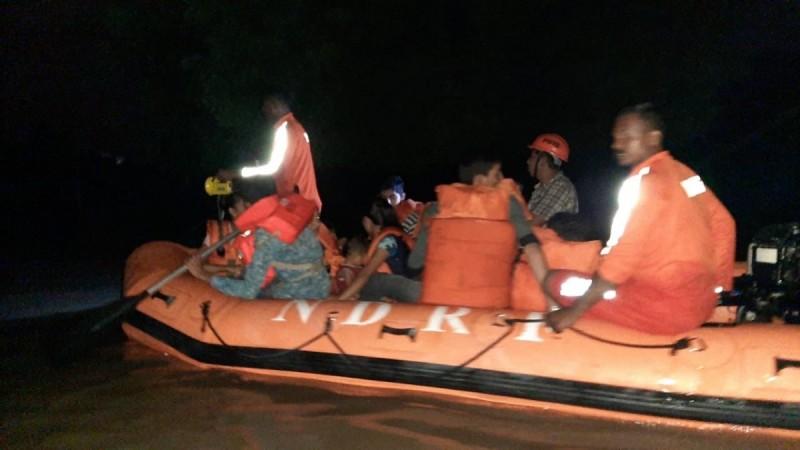 2019-08-0110:48 (IST)
Gujarat CM Vijay Rupani holds review meeting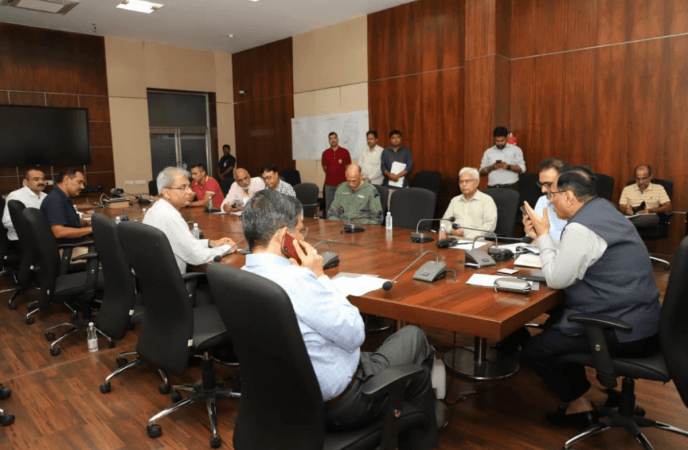 Gujarat Chief Minister Vijay Rupani held a high-level meeting to review torrential rain situation in Vadodara city and deputed 2 IAS officers, identified as Vinod Rao and Lochan Sehra, to provide guidance to the local administration. CM Rupani appealed citizens to shift from low lying areas to safer places.
2019-08-0110:44 (IST)
IMD predicts heavy rainfall for 2 days
The Indian Meteorological Department (IMD) warned of heavy rainfall in Gujarat for the next two days. "Strong winds, speed reaching 40-50 kmph, are likely to prevail over along and off Gujarat-Maharashtra-Goa coasts. Fishermen are advised not to venture into these areas," the weather department stated. Several parts of Gujarat, including Saurashtra, will receive "heavy to very heavy rains" during the next two days.