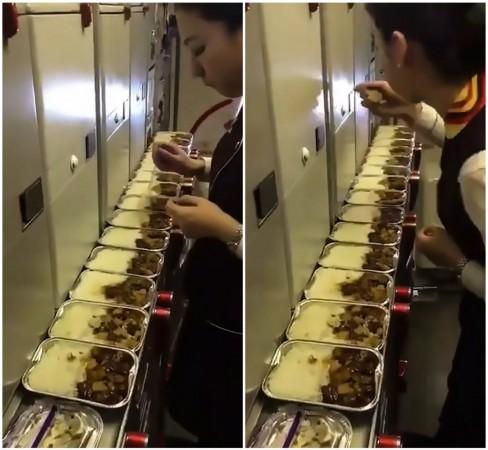 Always remember, it's not good to "taste test" things that you're not supposed to. Take this air hostess for example. She was filmed for doing the same with in-flight meals of passengers, and now has been suspended from the airline.
While the cabin crew member remains unnamed, she was flying with Urumqi Air in China when the video was filmed by an assumed colleague, and then later shared online.
Also read: High and mighty IndiGo Airlines ground staff manhandles and abuses passenger; video goes viral
The clip was taken around 45 minutes before the aircraft supposed landing in Yinchuan City in north-western China.
What's even more shocking is that the air hostess appeared to notice and know she was being recorded but seemed totally nonchalant and unbothered about it. She clearly didn't seem to mind about being filmed in the act.
As can be seen in the video, the flight attendant has a row of meals open and lined up in front of her and is seen eating from at least one of them in the short 30 second video.
Certain social media users on Weibo also raised complaints and demanded an explanation for the air hostesses' absurd behaviour, simultaneously questioning the airline company's hygiene standards.
The airline based out of Urumqi, capital of north-western China, issued a formal statement to the media, stating that they had suspended the flight attendant effective immediately upon coming across the video, also grounding her from all flights.
The company's statement also cleared out doubts about the meals the attendant seemed to be eating, claiming that they were just leftovers which were not haned out or about to be handed out to passengers anyway.
The statement also added the employee's breach of airline's protocol since she was supposed to be disposing off the food, not taste testing them or anything of that sort. The airline also apologized for the incident and admitted to having been conducting a full investigation as well.