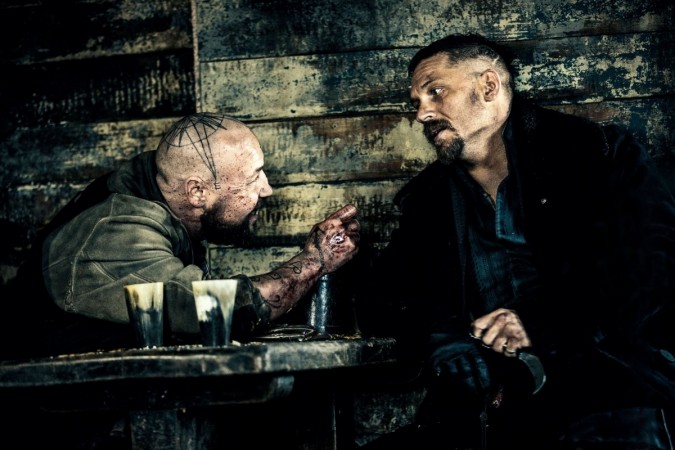 After making a grand premiere, Tom Hardy starrer Taboo did not show any new twists in its last episode. The first episode of Taboo showed that set in 18th century, Tom Hardy's James Delaney reappeared in London after spending ten years in Africa to claim a mysterious legacy left to him by his father.
Also read: Taboo's Tom Hardy explains why the TV series needs to be watched a second time
Afterwards, having made an unexpected arrival in London, Delaney put all of his efforts to reclaim his legacy and established a new life for himself. While watching Hardy's Delaney digging in the mud and stealing coins from his dead father's eyes, there would be an unexpected arrival in his life after he reads his father's will.
The episode 2 opened with East India Company leader Sir Stuart Strange put a hit out on Delaney. The Company wanted to obtain Nootka Sound, the only strip of land, which was left by Delaney's dead father.
While the name might sound weird or another creative invention by Tom Hardy, it is actually not. Nootka Sound is actually an inlet on the west coast of Vancouver Island and a real source of international military conflicts during the era in which Taboo takes place. ("Sound" or "inlet" means a small arm of a sea, a lake, or a river). It is definitely not a large piece of land; it is just 534 sq km area.
But there is a hidden significance of the place. The land was acquired by the Nuu-chah-nulth tribe in the past and James Delaney's mother belongs to that tribe. The first episode suggested that his mother was a trophy wife as a part of some kind of colonial deal. Later on the episode, he set up his own shipping company named Delaney Nootka Trading Company and he bought a boat from the East India Company. Then he discovered that the boat was used in the business of transporting slaves.
Then the synopsis of episode 3 hinted that Delaney will meet a mysterious doctor Edgar Dumbarton (Michael Kelly). He is also a flag maker and a spy who first welcomes James to his workspace in St. Bartholomew's Bone Infarctions ward, then walks him out at gunpoint.
Here the official synopsis of the episode 3 reads:
James Delaney finds himself alone with the mysterious Dr. Dumbarton, discovering an unlikely new ally. With enemies lurking in every corner, James decides only radical action and perilous affiliations will be able to safeguard him from those intent on his demise. As he works to prevent further attempts on his life, James realizes there are other softer options - people close by - that his enemies may choose to destroy in his place.
Taboo airs a new episode every Saturday on BBC1 at 9.15 pm and every Tuesday on FX at 10 pm ET. You can watch the episode live here.