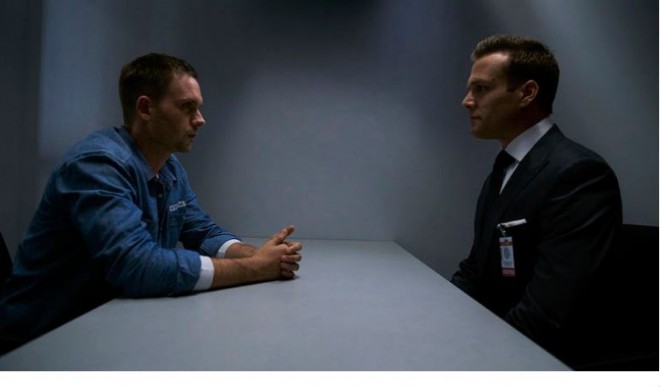 "Suits" Season 6 premiered on Wednesday, July 20, with "To Trouble,". Fans learned that even in prison Mike (Patrick J Adams) and Harvey's (Gabriel Macht) relationship is far from broken. In fact, a villainous cellmate Frank (Paul Schulze) has even decided to punish Mike for his beef with Harvey.
In the upcoming Season 6 episode 2 titled "Accounts Payable", we will see Frank taunting Mike about the fact that he tricked the former lawyer into giving out his fiancé's information. The promo for the episode sees Frank asking Mike, "Don't you want to take a look at some of the pictures your fiancé sent me?"
Although Rachel (Meghan Markle) seems to be in the dark about the reality of Mike's situation in prison, she catches on soon enough. And once she does, she threatens Harvey by saying that she would never forgive him if something were to happen to Mike.
Also Read: Ray and Primm help Mickey get heist money back in "Ray Donovan"
Obviously she has nothing to worry about, because Harvey loves his protégée almost as much as Rachel does. To top it off, it is his past actions that has now put Mike in this danger. He will go to prison and try to negotiate with Frank in "Accounts Payable," but it looks like the inmate has sealed Mike's fate. He tells Harvey, "The guy who is in here for you, isn't coming out."
Harvey in turn warns Frank that he will have no trouble hurting him even if he is locked in prison. However, the promo suggests that Harvey may be a little too late in taking action, because Frank is seen swinging a knife of shiv at Mike. Admittedly Mike is not going to be fatally injured, but the threat that Frank poses is real and dangerous.
The official synopsis for "Suits" Season 6 episode 2 reads: "Louis, Jessica and Harvey fend off a class action lawsuit; Mike has no choice but to run afoul of a fellow prisoner." Don't forget to watch "Accounts Payable" at 9 p.m. (EST) on Wednesday, July 20. You can also live-stream "Suits" via USA TV Live and Hulu.