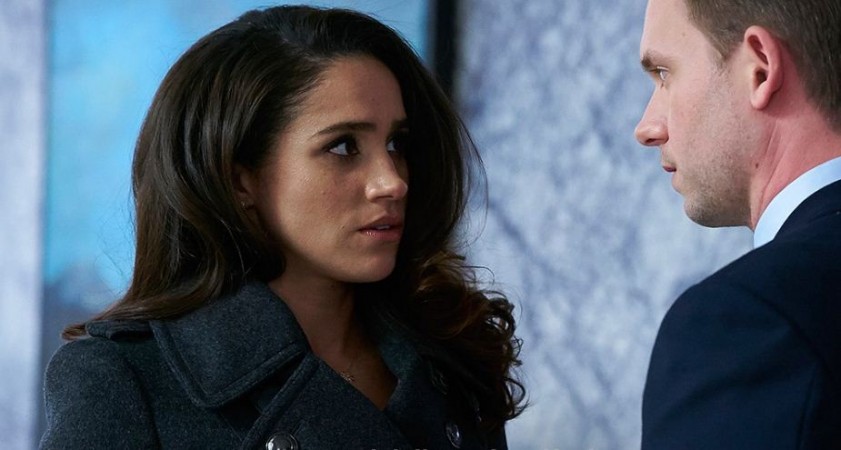 Every "Suits" fan was equally shocked and impressed by the final moments in the Season 6 finale. While it is clear that Mike's (Patrick J Adams) arrest is not going to bring down the level of drama by any measure, fans are appalled at the thought of what the new threat in prison can do to Mike.
Major spoilers for "Suits" Season 6 episode 1,2 ahead. In case you missed the episode on USA Network, you can watch "To Trouble" on Saturday, July 17, at 10 p.m. (IST) via Comedy Central India.
From the promo of the upcoming Season 6 episode 2 titled "Accounts Payable," it is clear that the danger is real. Rachel (Meghan Markle), who still thinks Mike is in possession of the phone from which he sent her messages, sends photos of herself to the number.
Frank (Paul Schulze) uses these photos to taunt Mike, who reciprocates in violence, or rather, attempted violence. Since he is a newcomer, Mike has no friends in prison and Frank does, and the latter uses it to his advantage. In the promo he is also seen trying to attack Mike with a shiv as three other inmates hold Mike in place.
The promo also shows Rachel warning Harvey (Gabriel Macht) that if anything happens to Mike in prison she would never forgive him. After all, it is Frank's vendetta against Harvey that had inspired him to make Mike's prison life a living hell. However, fans have nothing to worry, because Harvey will take care of his protégée, and to this end he is seen warning Frank in the clip, "You think I can't hurt you in here?"
Also Read: Patrick J Adams talks highs and lows of Mike's imprisonment
Rachel will also be by Mike's side in spirit, telling him to push through for the sake of their future together. "Yes, of course she's still loyal — that's a huge facet of her character," Markle had promised International Business Times in a recent interview.
She will also look for loopholes to get him out of prison as soon as possible. "...We know that Rachel is one to try and make the best of things and is a problem-solver, so now she's in resolution mode and trying to figure out, 'How do we fix it? What do we do? How do we fix the firm? How do we get Mike out? How do I survive this?' We really see her rallying in that way this season," Markle told us.
Here is the official synopsis for Season 6 episode 2 of "Suits"
Louis, Jessica and Harvey fend off a class action lawsuit; Mike has no choice but to run afoul of a fellow prisoner.