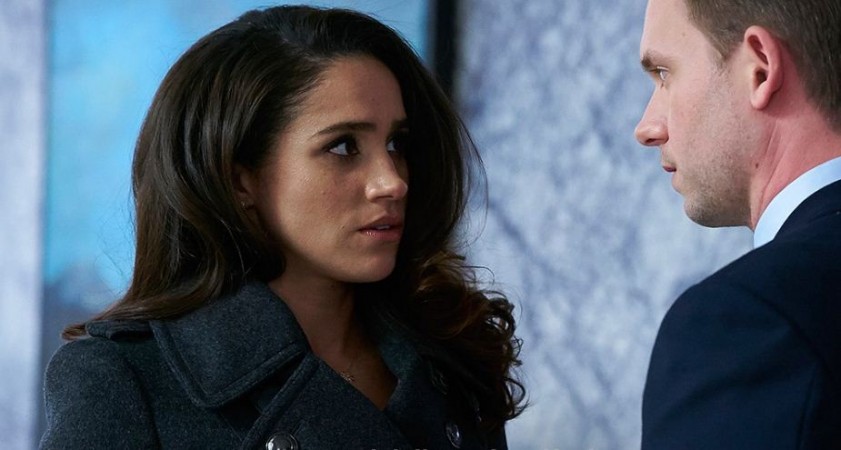 "Suits" Season 6 is impressive for many reasons, but mainly because the writers did the unthinkable and actually made Mike (Patrick J Adams) pay for his mistakes. While his decision has an impact on all his friends, mentors and the firm itself, it is his fiancée Rachel (Meghan Markle) that has been affected the most by his choice to hand himself over.
As fans anticipate about the future of Mike and Rachel's relationship, International Business Times India speaks with Markle about how her character will evolve during this experience. Here are the edited excerpts from the interview:
International Business Times: At what point did you think Mike's secret is finally coming out? Did you have any premonitions before reading the script for Season 5 mid-season finale?
Meghan Markle: I was actually really surprised that they let the secret out so early; I thought they'd have to let it continue for at least another season or so. Then again, how long can that secret be kept if everyone else is starting to find out about it? So from a storyline perspective, I guess it was a logical thing for them to do. However, when I initially read the script, I thought "Oh no - are we getting cancelled?! Where do we go from here?" But our show has the best writers, so they found a way to keep re-energising it.
IBT: What is Rachel's state of mind, now that her fiance not only went to prison, but that he left her at the chapel where they were supposed to get married?
Markle: We pick up in Season 6 exactly where we left off at the end of last season, so Rachel is left on the front steps of the church with her parents and other people at the firm. I think her state of mind is what any bride's would be if your groom is going to prison; she's devastated. At the same time, we know that Rachel is one to try and make the best of things and is a problem-solver, so now she's in resolution mode and trying to figure out "How do we fix it? What do we do? How do we fix the firm? How do we get Mike out? How do I survive this?" We really her see her rallying in that way this season.
Also Read: Here is how Mike's prison buddy can ruin Harvey's life
IBT: With the firm theoretically deconstructed, Jessica, Louis and Harvey will need all the help they can get to build it back up. Does this mean Rachel will finally get to show them her full potential?
Markle: Yes it does! We see so much of Rachel with Jessica this season, which has been incredible for me to work with Gina [Torres] more closely. We saw a lot of Jessica in a mentor role for Rachel in Season 5, but now, it's even more so. Rachel works hands on with another case – which is a huge storyline in Season 6. I think they're able to see her value independent of Mike at the firm, and also, her work ethic and how good she is. I can't wait for Rachel to be a lawyer and I think the other characters are now seeing that as well.
IBT: How do you think Rachel will deal with Mike being in prison? Will we see any personality changes in her?
Markle: I think Mike being in prison makes Rachel fiercely independent. Yes, of course she's still loyal -- that's a huge facet of her character, but now, she has the time to work on other cases and throw herself into work and school. We're seeing a piece of her that is really a lot more like the Rachel that we met in the first episode of "Suits" that was very no-nonsense.
There was that scene where she meets Mike for the first time and is like "Let's just get it out of the way that I'm not interested." Not like cold, but very direct, and so driven that she's not distracted by her love of a man. In Season 6, we are seeing that version of Rachel in a really huge way...and I like her. She's a bad ass.
IBT: What can you tease us with, regarding Season 6?
Markle: I think Season 6 is the most interesting version of "Suits" that we've seen yet because you get all of the elements that you really love from the show. You still have the fun, witty banter; the great 'walk-and-talks' and you're still invested in all of these different characters' lives, but the landscape of the show is different – Mike Ross isn't there.
This season, we see Mike's whole world in prison, but for me, as an actor and as a character, we just shot episode eight and I've had only had one scene with Patrick [Adams]. That is a completely different version of the show than we've seen before and I think viewers are going to like it because you get to meet the characters in a new way. As an actor, it's really fun for me because it's almost like I'm on a different show; everything I've done up to this point has been tied to 'Mike & Rachel', and now, this season, I've barely seen him.
"Suits" Season 6 episode 1 premiered on USA Network on Wednesday, July 13 and is set to be aired in India at 10 p.m. (IST) on Saturday, July 16, via Comedy Central.