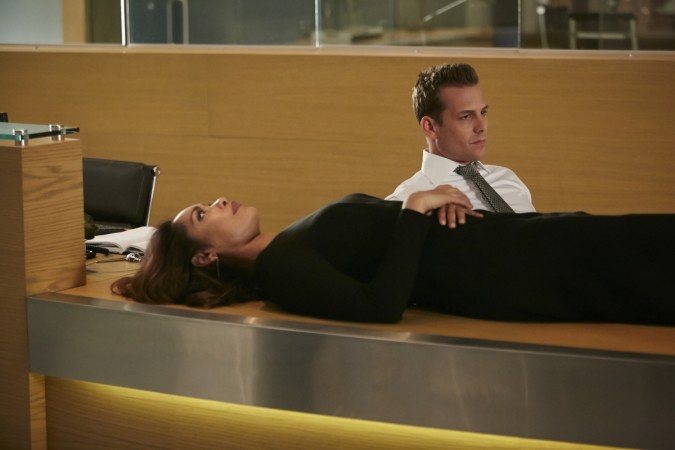 After a torturous wait, USA Network's "Suits" is back with Season 6 on Wednesday, July 13. Fans will finally get to see how Mike (Patrick J Adams) fares in prison and how his arrest has really affected Pearson Specter Litt in the premiere episode, "To Trouble."
As fans saw in the Season 5 finale, Mike surrendered himself to save his friends, and the firm's choice to back him has resulted in a bad reputation. Everyone, from office boys to partners, has abandoned the building and even the named partners aren't sure if the firm is worth building back-up.
If there is one thing "Suits" fans know about Jessica (Gina Torres), Louis (Rick Hoffman) and Harvey (Gabriel Macht), it is that they will never back down from a fight. They will obviously fight their way back up to the top, even as one obstacle after another comes their way.
Meanwhile, Harvey and Louis are back at each other's throats, with both of them blaming the other for their predicament. Jessica will have to bring them all together in a very conventional manner that ensures that all of them are on the same page.
Also Read: Patrick J Adams talks Mike's imprisonment in interview
"The way that Jessica brings us together is quite spiritual and what it allows Harvey to do is to take ownership and responsibility for bringing the house down. So they need to work together to build the firm back up and that's where a lot of season six begins from," Macht told International Business Times, India.
Macht further teased that Season 6 premiere will also pay homage to "The Breakfast Club," adding, "What's great about what happens in this episode is we see Jessica really having to bring the three of them together and there's a nice little surprise I won't tell you about."
Don't forget to watch Season 6 episode 1 of "Suits" at 9 p.m. (EST) on Wednesday, July 13. You can also live-stream "To Trouble" via USA TV Live and Hulu.