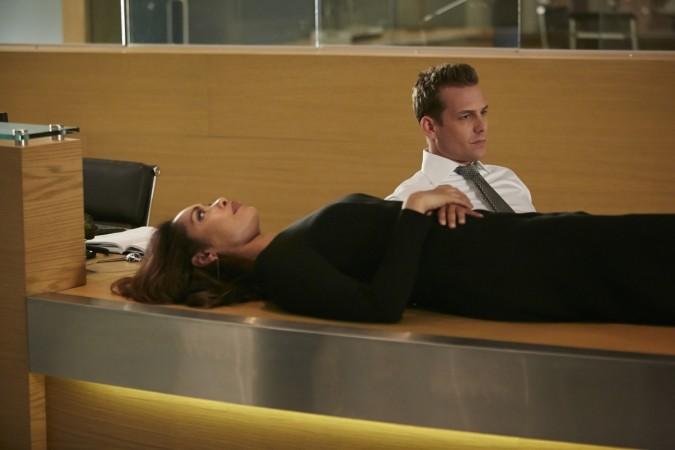 USA Network's "Suits" is returning with Season 6 on Wednesday, July 13 and fans are restless to see how Harvey and the rest of the squad at Pearson Specter Litt will rise from the proverbial ashes. As every fan of "Suits" would unanimously agree, the brilliantly written and executed legal drama is all the more compelling and thrilling, thanks to Harvey.
One of the main storylines that drives fans to religiously tune-in for the show every Wednesday is Donna and Harvey's romance. With "Suits" Season 6 just around the corner, International Business Times India, spoke to Gabriel Macht regarding his character Harvey's future in the firm and as Donna's love interest. Here is the edited excerpt from the interview.
International Business Times: At what point did you think Mike's secret is finally coming out? Did you have any premonitions or did you learn after reading the script for Season 5 mid-season finale?
Gabriel Macht: Aaron [Korsh] told the entire cast that we were moving in the direction of Mike getting fully caught by the state and going to jail. We, as a cast, were all excited by that idea because it really put us all into a corner, and I think that's when the show is best: when it gets really uncomfortable for the characters. The stakes are the highest they have ever been, and we have to figure out how to get out of these scenarios in which the challenges become like climbing Mount Everest. That was really exiting. When we got the finale and saw that Mike was definitely going to jail, we were thrilled about that because it opened up the opportunity for new stories, new threats, and new challenges.
Also Read: 'Suits' Season 6 spoiler-free review
IBT: With the company's name tarnished by Mike's scandal and all associates having left the firm, where do Jessica, Harvey and Louis even start?
Macht: We start season six in a really tenuous situation. Harvey has just dropped Mike off in jail. He really misses Mike immediately and connects with Rachel on a level where they can both relate. They basically receive the news from a voice message that everyone has left the firm, including all of the associates and other lawyers. We start from rock bottom – Mike's in jail, nobody's left at the firm except for Pearson, Specter, Litt, Donna, and Rachel.
It's an episode where we see the first night of Mike's experience in jail, and the first night of having to build back the firm. Harvey and Louis are at odds, obviously. Louis is ready to let Harvey go. And what's great about what happens in this episode is we see Jessica really having to bring the three of them together and there's a nice little surprise I won't tell you about.
The way that Jessica brings us together is quite spiritual and what it allows Harvey to do is to take ownership and responsibility for bringing the house down. So they need to work together to build the firm back up and that's where a lot of season six begins from. We have a bit of an homage to "The Breakfast Club," there are some lighter moments, but at the end of the day, the stakes are extremely high with Mike just going to jail and the rest of the crew starting from the bottom.
IBT: With the firm theoretically deconstructed, will Harvey have a hands-on role in building it back up? At this point Forstman's threat is also irrelevant, right?
Macht: Forstman's threat is irrelevant only because he has not appeared back in season six thus far. I think his threat is only relevant when we see his character come up and join us. But we have different threats in a few new characters – some that are threatening Mike and subsequently affecting Harvey. As we start to build the firm back up, we will also find this season that there are people that are dangerous. We see that there are different reasons for representing certain figures.
Also Read: Five things to look forward to in "Suits" Season 6 premiere "To Trouble"
IBT: A lot of the comedy in Harvey's scenes came from his interactions with Mike. With the latter in prison, will the show take on a darker tone?
Macht: I wish there was more comedy but as the stakes have gotten higher and higher, it's really hard to care about these characters if they're making fun along the way. There are ways to bring comedy back into the story with Harvey and Louis at times, Donna and Harvey have a lot of witty banter back and forth and that goes for Mike and Harvey as well. But with the stakes so high, it is really difficult to pull that off. If at some point we get Mike out of prison, maybe the stakes won't be so high and they will be able to make fun of one another and enjoy the lighter moments. But that really hasn't happened so much this season. We'll see if that opens up in the coming episodes.
IBT: In the previous season we saw Harvey being a lot more vulnerable than we have ever seen him. How different was it to show the sensitive side of the usually charismatic and in-control character?
Macht: [The Show] started off with Harvey being uber-confident and totally in control, he was a type-A guy who has this incredible shield - his suit, his armor. As the show progressed, we peel him like an onion and see that underneath all of that bravado is often times an insecure guy that has a lot of demons in his closet and becomes vulnerable every now and then.
Last season, we explored his vulnerability through taking him into therapy and visiting his panic attacks and really getting underneath why he has those. In the essence of people leaving him and where that comes from as far as his mother. I loved playing that. It was a different part of Harvey.
I think with every character, the deeper you go and the more that you reveal underneath people's insecurities, it becomes way more interesting and more dynamic and challenging as an actor. The differences of playing those beats give the audience reason as to why he has overcompensated through time and still continues to. I very much enjoyed playing those beats.
Also Read: Aaron Korsh talks Rachel's pregnancy rumour
IBT: What does Season 6 hold for Harvey and Donna? Is Harvey finally ready to admit his feelings for her?
Macht: Harvey and Donna are really working together to get Mike out and that's their major story-line through season six. They haven't really explored each other's feelings for one another nor do I know if they will in the back eight episodes of Season six. So, to be perfectly honest, they're not connecting on that level right now. We'll see what happens as the story progresses.
IBT: What is one tease you can give us regarding Harvey from Season 6?
Macht: I cannot tell you much but what I can say is that there are times where he would never want to do the things that he's about to do, and he would say he's never going to do them, and then pretty soon we figure out why he turns full circle to do the things he needs to do. I know it's pretty vague but let's just say the tables turn half-way through.
Don't forget to watch the Season 6 premiere of "Suits" titled "To Trouble" at 9 p.m. (EST) on Wednesday, July 13.