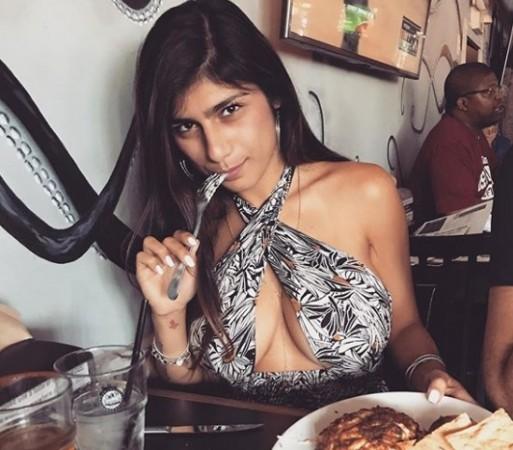 If you had to do a presentation for a high school project, what would your topic be? Politics? Entertainment? Science? Well, this young chap chose to do something else. To be more specific, he made a presentation on one of the top porn stars, Mia Khalifa and he has got the internet going crazy.
In a video that has been making the rounds online, a young boy is seen in all seriousness making a presentation on the former porn star. It is unclear which school he belongs to but the boy - whose name on the presentation reads Gage Thomas - is seen dressed in a Trinity shirt. Judging by the reactions online, he studies in a Christian school.
Taking on the podium, the boy is seen explaining the ex-porn star's life, career and more. The presentation begins with Mia in a hijab and goes on to show different photos of the adult actress.
"Mia Khalifa is known for having the best skits/movies that she stars in. My personal favourite is called Mia Khalifa is coming to dinner," he shares. Fighting back a fit of laughter, he added, "she also works as a model".
A teacher is nowhere to be seen in the video but a group of students who are playing an audience to the presentation are heard laughing at the end of the recording. Twitter applauded his effort. Here are a few reactions:
Just saw video on insta, a man made a whole presentation on Mia Khalifa in his class presentation ??

— Eman Dar (@EmanAmerDar) April 27, 2018
Mia has been in the news lately after she revealed the vicious death threats she got for shooting the notorious sex scene wearing a hijab. Despite her retirement from the adult industry in 2016, Mia still has a huge fan following.
Earlier this year she revealed that she gave up on the career because she received threats from ISIS. Following her exit from porn movies, she became a sports talk show presenter. In March this year, she chose to give it up as well to concentrate on her other business ventures.