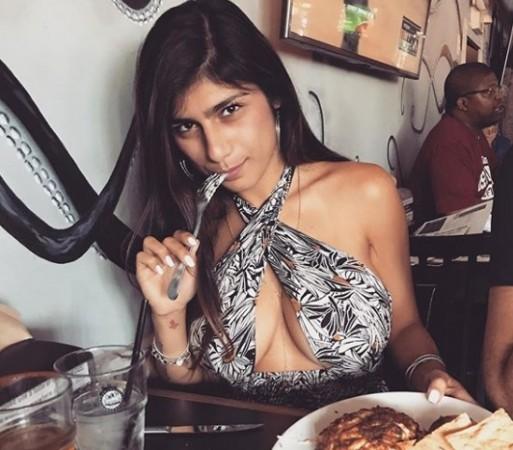 Once upon a time, Mia Khalifa was the hottest name in the adult film industry. The porn star's videos were in high demand and she grew a devoted fan following through her acts. But things changed soon after the 25-year-old received death threats from ISIS, forcing her to quit the industry.
Talking to Lance Armstrong on his podcast The Forward, the Lebanese-American confessed that doing porn was a "huge mistake" and recalled her exit from the industry.
"It all started to spiral out of control when the death threats from ISIS started coming in. That's when I stepped away. As soon as I started to gain popularity that's when I was like 'get the f*** out of this," she said.
"This was not what I was trying to do whatsoever. I just wanted to let loose and rebel a little bit. It didn't validate me. Nothing like that ever does," she added.
She went on to speak about her first experience shooting a porn movie and when she decided to dive into the porn industry. Following her exit, Mia also said that she is trying to rebrand herself.
You can watch the complete podcast here:
Mia became a renowned name in the porn world after she became the top-ranked performer on the adult site PornHub. The history graduate, who moved from Beirut, Lebanon, drew massive criticism from the Middle East for her videos. Countries branded her a disgrace. ISIS sent forward death threats.
Many explicit visuals from her videos got people protesting. But there was one particular video, featuring the porn star performing her act wearing a hijab that caused an uproar. Speaking to Washington Post in 2015, Mia said, "There are Hollywood movies that depict Muslims in a much worse manner than any scene Bang Bros [the company behind the video] could produce."