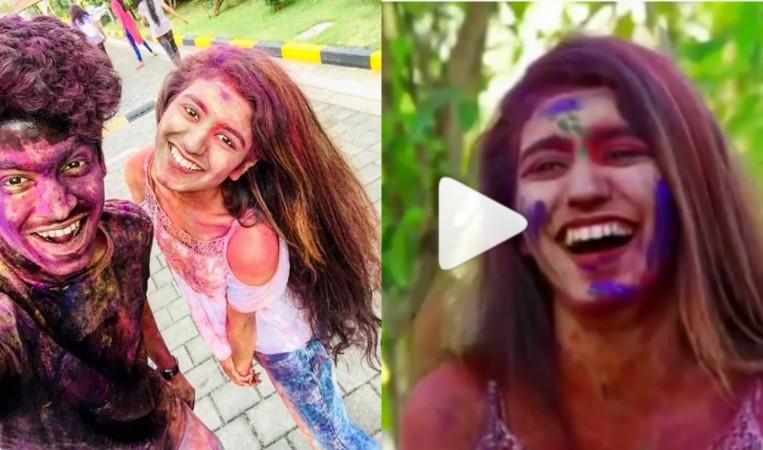 Malayalam actress Priya Prakash Varrier had a memorable Holi this year. The internet sensation who made several Indian go weak at their knees, bowled fans over yet again when she shared a heart-warming video of herself, joined by the cast of Oru Adaar Love, playing Holi.
The 18-year-old took to her Instagram to share the adorable video. Covered under the hues of purple, green, pink, yellow and many more, she laughed her way through our hearts on the festival of colors.
In the video, Priya is joined by her co-star Roshan Abdul who also became the talk of the town with his expressions in Manikya Malaraya Poovi. The short clip sees the on-screen couple smearing a handful of color on each other before wishing fans on the occasion.
Judging by the video, it is evident that the team had a lot of fun. Check it out here:
Meanwhile, Priya is also turning heads in Malappuram as the youth wing workers of Kerala's Communist Party of India (CPI) featured her viral wink on a political poster. Evidently smitten by her expression, the All India Students Federation (AISF), the student wing of CPI, released campaign posters featuring Priya winking.
As per a report by Times of India, the wink has been used to show solidarity with filmmakers who face attacks from fundamentalists.
"The controversy regarding the movie and song was unnecessary. The posters are a symbol of resistance as a section of fundamentalists in North India has come up against Priya and director of the movie. Our poster supports the freedom of expression of filmmakers," said P Jamsheer, state joint secretary of AISF.
Following the popularity of the song, the wink and Oru Adaar Love's teaser trailer, the Malayalam movie and Priya Prakash Varrier drew controversy when some groups protested against the song's lyrics alleging that it hurts religious sentiments of the Muslims.
What a quirky way to show support! Last year, the cadres' meet posters featured North Korea's Kim Jong-Un. In the past, celebrities like Karl Marx and Vladimir Lenin have graced the posted.