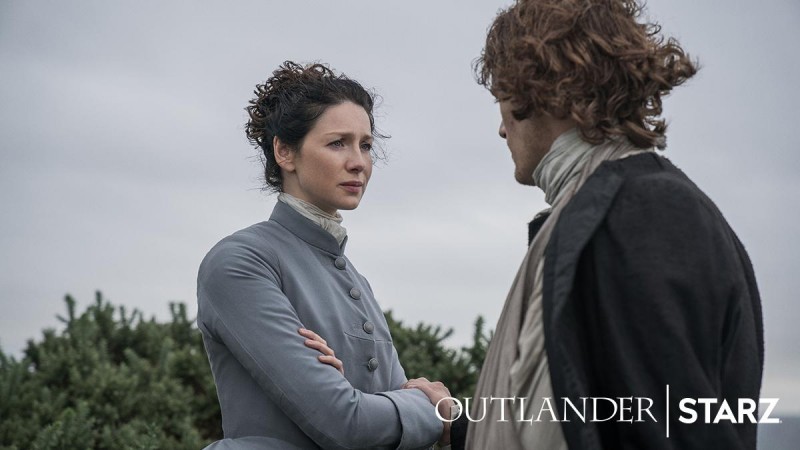 Outlander fans are amazed at Claire-Jamie's much-awaited reunion. But the duo seems to be going through a rough patch as they go back to Lallybroch to Jamie's sister Jenny (Laura Donnelly) and brother-in-law Ian (Steven Cree).
Also read: Outlander Season 3 Episode 8 air date, spoilers: Who is Jaime's 'First Wife'?
They won't receive a warm welcome. Instead, Jenny will question Claire's return after 20 long years as they are still unhappy about her sudden disappearance: They don't know about her time-travelling story. They assume that she just ditched them after the Battle of Culloden.
In the preview clip released by Starz, Claire is seen asking for a second chance from Jenny. "I'm only asking for a second chance," Claire says.
Most importantly, the trailer for episode 8 reveals that Claire gets to know about Jamie's first wife and asks why she is not aware of it. The couple has a disagreement over the issue which upsets Claire.
On the other hand, Jamie brings back his nephew Young Ian (John Bell) home (Lallybroch) after saving him from the fire accident at his print shop.
But that too does not make his mother (Jenny) happy as she gets to know that Young Ian was involved in a liquor smuggling business along with Jamie.
Watch the preview clip for Outlander Season 3 Episode 8 here.
In another sneak peek video (via Marie Claire), Jenny introduces Claire to her son James, who is now a father himself. But a distressed Jenny won't let Claire help change her grandchild. She says: "Do not want to bewilder the bairn with a strange face now."
The episode synopsis reads here —
"Claire returns to Lallybroch with Jamie, where she does not receive quite the reception she was expecting. Unbeknownst to her, Jamie's made some choices in their time apart which come back to haunt them with a vengeance."
The eighth episode titled "First Wife" will air on Starz on November 5 at 8/7c.
The 13-episode series will be available on the Starz app as well. You can also watch Outlander for free online on the Starz website.
The previous two seasons of the time-travelling drama are available on Amazon Prime and Netflix.