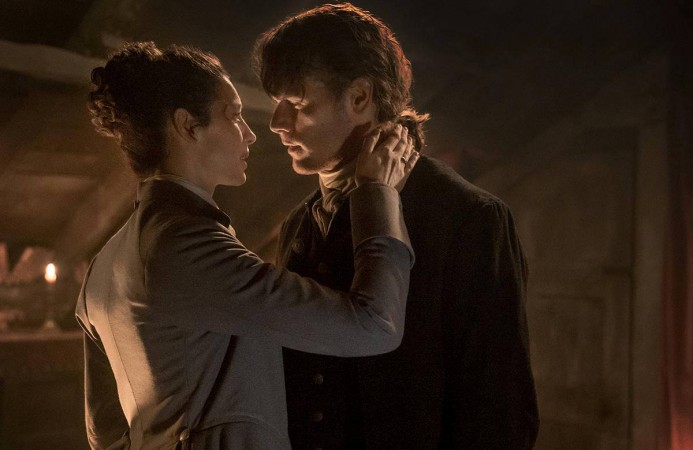 Jamie and Claire will be seen this week going through some rough patch and will have a rocky future ahead, following their recent ecstatic reunion.
Also read: Watch Outlander Season 3 Episode 7 live online: 'Creme De Menthe'
An intruder tries to trespass on Jamie's print shop and threatens Claire to rape, but she tries to attack the strange man with a knife. She shouts, "I'm just gonna kill you."
Kind Claire then feels obliged to treat the injured man, but he eventually dies.
As noted by the episode 7 synopsis, Claire thinks returning to Jamie is a mistake as she interrupts his whole life again. "I've caused you so much trouble," she says.
But Jamie seems to be very happy upon her return as he says: "I'm grateful that you are here no matter the cost. I would give up everything I have for us to be together again."
On the other hand, Jamie plans to take his younf nephew Ian to his family at Lallybroch. Also, Ian's father Ian Senior is shocked and delighted to see Claire alive, but is still wondering where his son is. He is not aware that his son is involved in the alcohol-smuggling business alongside Jamie.
More than anything, the icing on the cake of the episode is when Ian Senior asks Jamie whether he told Claire about the "other wife."
And if you are wondering who Jamie's "other wife" is, here is the answer for all of your questions.
Laoghaire is Jamie's first wife, whom he does not really love. He just married her because of her tragic life.
Yes, that evil blonde girl who once tried to kill Claire was widowed twice and left with two young daughters.
While Claire will probably get to know about Jamie's first wife in the upcoming episode, Laoghaire will become so angry that she will shoot Jamie. But, all thanks to Claire, Jamie is still alive.
Watch the trailer here:
Outlander season 3 episode 8 synopsis reads—
Claire returns to Lallybroch with Jamie, where she does not receive quite the reception she was expecting; the choices Jamie made during their time apart comes back to haunt them.
The eighth episode titled "First Wife" will air on Starz on October 5 at 8/7c.
The 13-episode series is available on the Starz app as well. You can also watch Outlander for free online on the Starz website.
The previous two seasons of the time-travelling drama are available on Amazon Prime and Netflix.