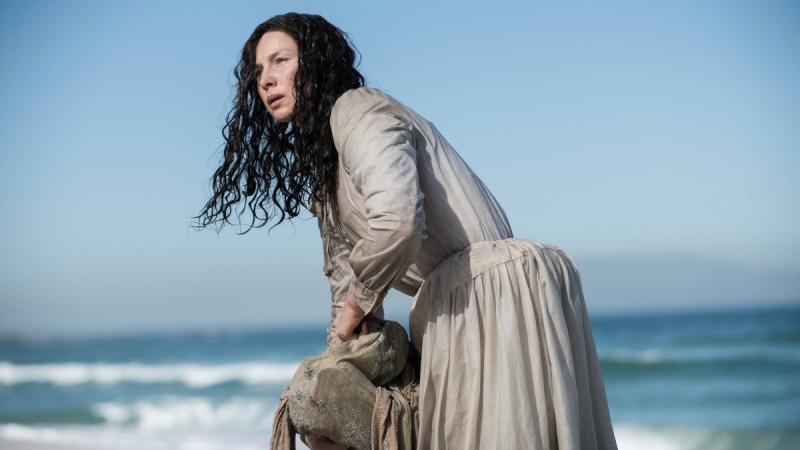 Last week's Outlander ended on a dangerous cliffhanger as we have seen Claire escaped the British warship Porpoise while uttering her signature epithet—"Jesus H. Roosevelt Christ."
Also read: Watch Outlander Season 3 Episode 10 live online: 'Heaven and Earth'
Determined to reunite with Jaime, Claire decided to take the risk and plunge into the dark water with only a small raft tied around her as to prevent from drowning. And, that's where the episode ended and left the fans wondering what would happen to Claire.
Thanks to the new preview clip, so now the fans know that Claire will be alive (this is quite obvious though).
In a new clip released by Starz, shows, as soon as Claire comes to her sense, she wants to go to Jamie because she has already learnt that he is a wanted man. Hence, she wanted to warn him beforehand.
She says: "If I don't make it to Jamaica, I could lose Jaime forever."
On the other hand, Jaime has been put behind the bars as he raged against the Artemis's captain for allowing the Porpoise to depart with Claire aboard.
To know, whether Jaime could reunite with Claire, you have to watch the upcoming episode of Outlander this Sunday.
Watch the preview clip for Outlander Season 3 Episode 11 here.
The official synopsis of Outlander Season 3 Episode 11 reads:
"After making a leap of faith, Claire washes up on a seemingly deserted island where survival is her only option. Navigating treacherous waters has crippled the Artemis, so Jamie devises a joyful moment for his crew in the midst of devastating setbacks."
The eleventh episode titled 'Uncharted' will air on Starz on November 26 at 8/7c.
The 13-episode series will be available on the Starz app as well. You can also watch Outlander for free online on the Starz website.
The previous two seasons of the time-travelling drama are available on Amazon Prime and Netflix.