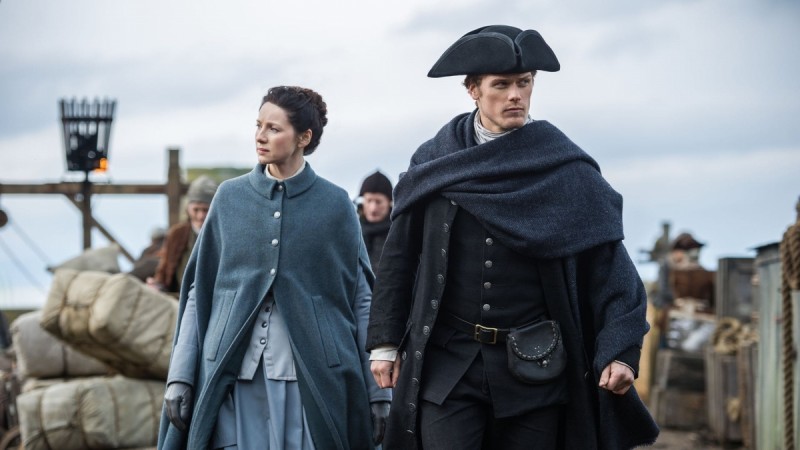 In last week's Outlander, Claire and Jamie began sailing to the West Indies to search for Jamie's nephew Young Ian. Jamie's cousin Jared helped them prepare for their journey and also informed that the ship which kidnapped Ian was the Bruja and it had gone towards Jamaica.
Also read: Outlander Season 3 spoilers: Claire and Jamie not to reunite soon?
But the episode ended on a sad note as Claire willingly stepped off the Artemis and boarded the British warship Porpoise to treat the British crew suffering from typhoid.
Of course, nothing ever goes according to plan on Outlander, and the Porpoise sailed off without letting Claire return to her husband.
Hence, Sunday's upcoming episode will revolve around how Jaime reacts when he discovers Claire's situation.
In a new preview clip, Jamie discovers Captain Raines knew the Porpoise crew intended to hold Claire against her will. And, Jaime gets really upset and orders to sail the ship towards Porpoise. But Captain Raines tells Jaime: "I have more than your wife to think about, Mr Fraser."
What will Jamie do now? Will he jump into the sea to rescue Claire or will he continue with Captain Raines until they reach Jamaica?
To know more, watch the upcoming episode of Outlander this Sunday.
Watch the preview clip here.
The official synopsis of Outlander Season 3 Episode 10 reads:
"Claire races to discover the source of an epidemic aboard a disease-stricken ship before hundreds of sailors die. As Jamie locks horns with Captain Raines, Fergus finds himself torn between loyalty and love."
The 10th episode titled 'Heaven and Earth' will air on Starz on November 19 at 8/7c.
The 13-episode series will be available on the Starz app as well. You can also watch Outlander for free online on the Starz website.
The previous two seasons of the time-travelling drama are available on Amazon Prime and Netflix.