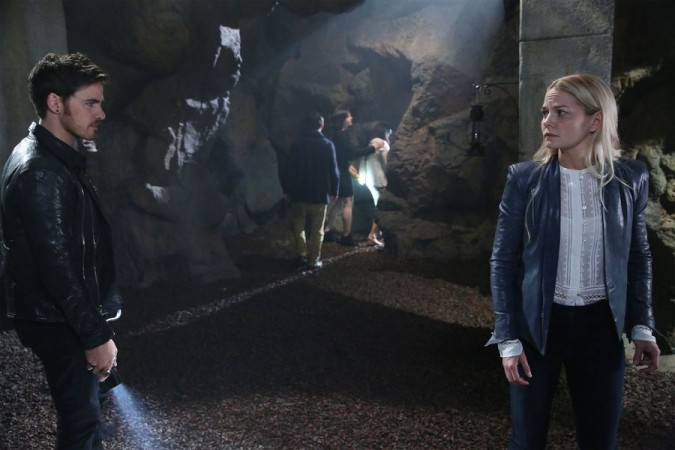 Emma Swan and Captain Hook romance might take a turn for the worst in Once Upon A Time season 6 episode 6, titled Dark Waters. The sequel will assign two different missions to the onscreen couple that could change their lives forever.
While the saviour of Storybrooke will be busy with Aladdin and Princess Jasmine, the Evil Queen will plan her next move and try to split Henry Mills and Killian Jones. The episode will also feature Snow White a.k.a. Mary Margaret Blanchard and Prince Charming a.k.a. David Nolan making some efforts to free Jiminy Cricket a.k.a. Dr. Archie Hopper from Wicked Witch of the West Zelena.
Also read: 'Once Upon a Time' Season 6: Faran Tahir opens up about playing Captain Nemo
Here is the official synopsis for the new episode: Emma tries to convince Aladdin to work with Jasmine to help Agrabah, while Regina teams up with Snow and David to free Archie from Zelena. The Evil Queen sows suspicion between Henry and Hook, even as Mr. Gold reminds her of his most important lesson. In the past, Hook finds himself kidnapped by the mysterious Captain Nemo and held captive inside his legendary submarine, the Nautilus.
Meanwhile, cast member Colin O'Donoghue hinted big ramification for his character in the upcoming episode. According to him, the Captain loves the saviour and he is concerned for her. That is why he is keeping the magical shears.
"Hook knows that deep down, he's sort of betraying her, but he's doing it in his mind for all the right reasons. It's something that will weigh on him quite heavily, but he's doing it so that he has a 'get-out clause' for her if worse comes to worst.," TV Line quoted the young actor as saying.
The 35-year-old even urged his fans to watch the new episode to find out "how things come to a head... and perhaps get resolved." Click here to watch Once Upon A Time season 6 episode 6 live online tonight, October 30, at 8pm EST on ABC. Dark Waters will also be available online on ABC Go.
Once Upon A Time season 6 episode 7 is titled Heartless and it could probably feature the return of The Dragon. It has already been revealed that Hong Kong born American actor Tzi Ma will reprise his role in the ABC fairytale series.