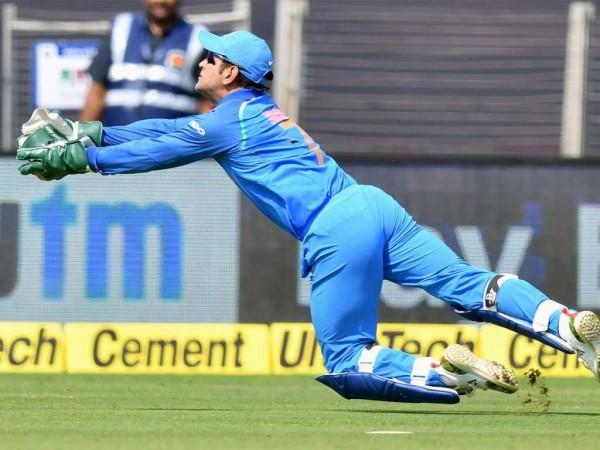 After the humdinger in Visakhapatnam, the ODI series between India and West Indies sprung back to life. In the third ODI in Pune, Indian captain Virat Kohli won the toss and elected to field first. He also included Jasprit Bumrah and Bhuvneshwar Kumar in the team and roped in Khaleel Ahmed instead of Umesh Yadav.
Windies got off to a bright start courtesy Kieran Powell and Chandrapaul Hemraj. Both the openers played few spicy strokes and were on top in the final few rounds.
Hemraj played arguably the stroke of the innings when he stood tall and smacked a short of a good length ball from Jasprit Bumrah over long on. Bumrah, however, came back strong and banged the next ball short and got it to climb steeply at Hemraj who wanted to hook it away. However, the angle across him and the bounce did not allow him to get under the ball and he could only get a top edge.
The ball went in the air and kept travelling toward fine leg. MS Dhoni took off from the wicket-keeper's position even as the ball kept swirling in the air. Identifying the fact that he was still a few paces adrift, the former captain dived forward with outstretched hands and caught the ball even as he fell down.
He was not done yet. Keeping against Kuldeep Yadav, Dhoni was at his vigilant best when whipped off the bails even as Shimron Hetmyer looked to hack a ball across the line. The ball pitched and spun away, Hetmyer lost his balance, Dhoni collected the ball and without any fuss got the job done.
He also accounted for Marlon Samuels who got a faint outside edge against Khaleel Ahmed. Dhoni dived forward, got his gloves under the ball and scooped up a neat catch.