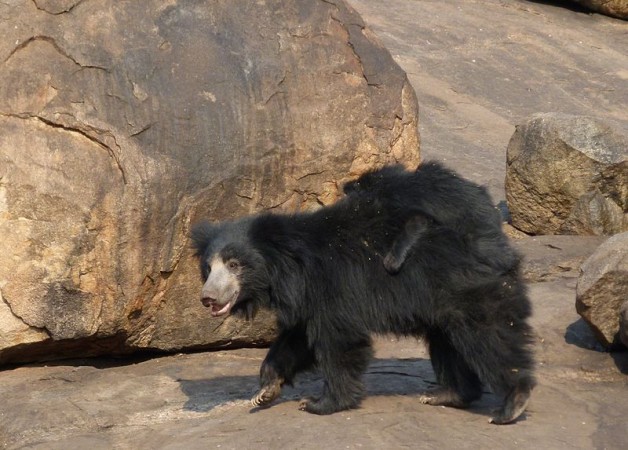 A video of an adult tiger and a sloth bear ferociously fighting has taken the internet by storm. The video was shot at the Tadoba National Park in the western Indian state of Maharashtra during an afternoon safari on February 28.
Chief naturalist at Bamboo Forest Safari Lodge, Akshay Kumar, said the fight was over the access to a nearby water body, according to an NDTV report.
The tiger, which was a dominant male, had marked the water body as his territory. The female sloth bear and her cub wanted to get to the water body.
However, when the bears stepped into the tiger's territory, the big cat attacked. To protect the cub, the mother bear fought back with all her might, the report said. Kumar himself shot the video.
The encounter reportedly didn't result in a fight initially and the tiger appeared to be just chasing away the bears. However, the mother bear suddenly charged at the tiger. The frightened cub was seen howling. It ran off later.
The tiger and the mother bear were seen biting and clawing at each other. At one point, the tiger was seen pinning down the bear, while she was heaving. However, it was not easy for the tiger to overpower the furry beast.
"The tiger attacked the bear more than five minutes. It went after the sloth bear but she kept charging in order to protect her cub...it went on for 15 minutes. The tiger was roaring. It was a severe fight," Kumar was quoted by NDTV as saying.
Both the animals sustained injuries.
President of Wildlife Conservation Trust Dr Anish Andheria said sloth bears don't really stand a chance in front of tigers. The only thing that apparently saved the mother bear here was her thick fur, which made it very difficult for the tiger to get a grip.
"As you can see in the video, the sloth bear was so exhausted. They can't outrun tigers," he said, according to the report.
Sloth bears — native to the Indian subcontinent — are solitary animals like any other bear species. Though they are not territorial, females bears are extremely protective of their offspring. An adult sloth bear, if threatened, will defend itself and attack with its long sickle-shaped claws.
The International Union for Conservation of Nature (IUCN) Red List has categorized sloth bears as vulnerable due to habitat loss and poaching.
This is not the first time a bear-tiger fight has been caught on camera. Last year, Daily Star reported on a video that showed tigers hunting down a bear.
Initially, the bear was seen strolling in the jungle but little did it know his scent had been picked up by some hungry tigers. Within few minutes, the bear became the big cats' meal as they pounced on it, killing it instantly.
The location of the video was not mentioned in the Daily Star report.
Check out the videos of the tiger-bear fight in Tadoba here: