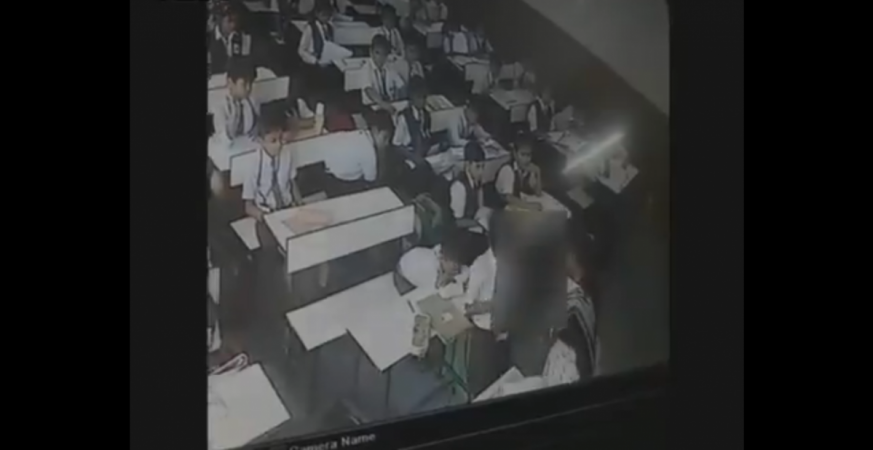 Just a day after a Tamil Nadu teen committed suicide after her teacher reprimanded her in front of her classmates for staining her uniform with menstrual blood, another teacher from a private school in Lucknow has hit the headlines for repeatedly slapping a student for not answering his roll call.
UP residential school horror: Principal suspended after stripping girls to check if menstruating
The incident took place at St John Vianney High School on Tuesday, August 29, but the video surfaced only on Thursday.
Reports say the Class III student failed to say "Present ma'am" when the teacher was marking their attendance. This angered the teacher, who pulled out the eight-year-old boy and started slapping him repeatedly on both cheeks.
The child, who has been identified as one Ritesh Gupta, is seen helplessly standing in front of the teacher, trying to cover his cheeks. He is also seen at one point begging his teacher not to hit him.
According to a local media report, Ritesh was slapped 40 times over a span of two minutes.
The incident came to light when the child returned home on Tuesday afternoon. His father Pravendra Gupta noticed that the boy was unusually quiet and his cheeks were swollen.
Ritesh initially did not tell his parents anything. However, they coaxed him into narrating the entire incident to them.
The parents went to the school on Wednesday and reported the incident to the principal. They also demanded to see CCTV footage from the day before.
The principal and Ritesh's parents were shocked on seeing the teacher mercilessly slapping the boy.
Ritesh told his parents that he was drawing in his notebook and hence did not hear the teacher calling out his name.
The child's father has filed a complaint with the police, who are currently investigating the case.
Watch the video of the entire incident here: