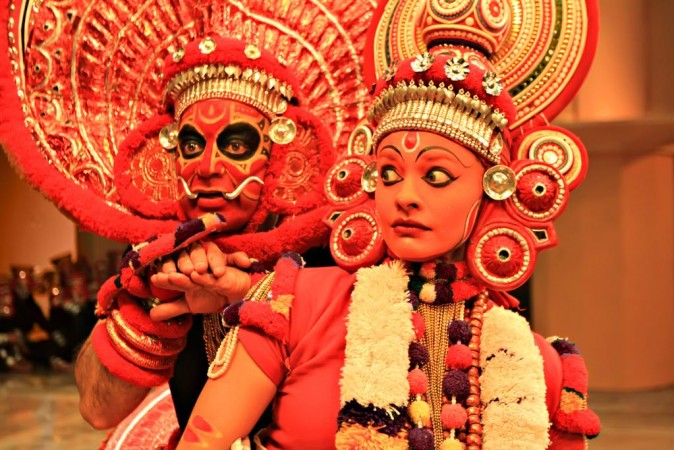 The much-awaited visuals of the song, "Iraniyan Naadagam" of "Uttama Villain" was released on Wednesday, 25 March. The video shows Kamal Haasan and Pooja Kumar performing for a stage play.
In the song, Kamal and Pooja are seen performing for the famous story of Hiranyakashipu and his son, Prahalad, in the form of a dance drama and the lyrics of the song has been written by Kamal himself.
One thing that captures the attention of audience throughout the song sequence is the screen presence of both the actors and the way they have conceptualised their roles.
The song, which sounds more like a monologue, is sung by Kamal and Rukmini Ashok Kumar.
Kamal's majestic voice adds to the grandeur as well as to the feel of the song. Like expected, the visuals of the song itself is an experience in itself. The imposing set at which the song is shot, shows the magnanimity of the upcoming movie. The costume and make-up with deep influence of traditional "Theyyam" performance creates a great blend of colours and textures on screen.
A highly orchestrated track with brass sections and the usage of Theyyam-exclusive instruments like "Chenda", "Kuzhal", "Perumabara" and "Utuku" are another major highlights of the song.
"Uttama Villain" directed by Ramesh Arvind is scheduled to be released on 10 April. In the movie, "Ulaganayakan" will be seen in two different looks. In a recent press conference, the actor said the film is about the life of an actor who is a superstar while he also rubbished the rumours that it is a satirical take on the film industry.
The film is also noted for the presence of late film-maker K Balachander, who was also the real-life mentor of Kamal. The makers of the movie has conveyed that the movie will be example of some scintillating performances from actors including Andrea Jeremiah, Parvathy Nair, Urvashi, Jayaram, Nassar, K Viswanath, Chithra Lakshman, MS Bhaskar and Ashwin.