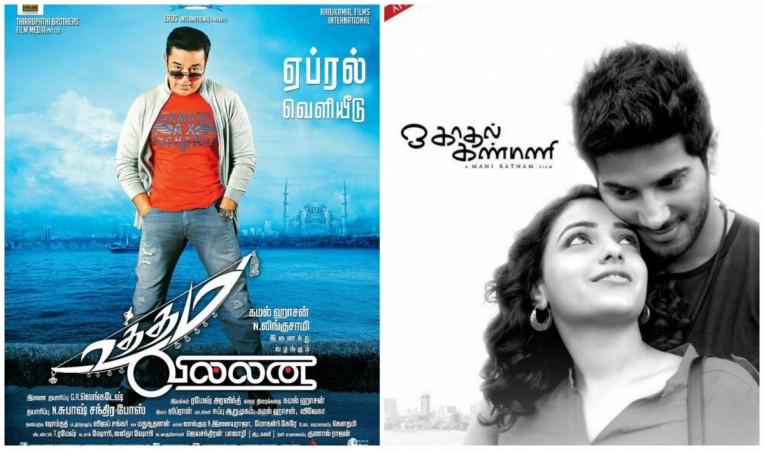 The Tamil cinema industry is now abuzz with the news that the release of Mani Ratnam's upcoming flick "OK Kanmani" will be postponed. The reason cited by many is the release date of Kamal Haasan's new movie "Uttama Villain".
Earlier, there were reports that the new Mani Ratnam flick starring Dulquer Salmaan and Nithya Menen in the lead will hit screens on 10 April. Now sources close to the movie claim that the release might shift to 24 April, as the Kamal Haasan movie has re-scheduled its release from 2 April to 10 April.
Many industry experts also rule out the possibility of releasing these two movies on the same date, mainly because the distribution of both the movies in Kerala and the US are done by the same companies.
Industry analyst Sreedhar Pillai shared his view on Twitter, saying Mani Ratnam will not prefer a clash with Kamal Haasan.
#OKKanmani will b pushed to Apr 24 if #UttamaVillain releases on Apr 10 as scheduled. Mani sir will not clash with Kamal sir.

— Sreedhar Pillai (@sri50) March 19, 2015
Another reason #UttamaVillain & #OKKanmani will not clash is that they have same distributors in Kerala (Sri Kaleeswari) & US (Prime Media) — Sreedhar Pillai (@sri50) March 19, 2015
Of all the major summer releases, "Uttama Villain" and "OK Kanamnai" are two films that are highly-awaited. While 'Uttama Villain' is touted as a comedy drama flick, 'OK Kanmani" is being promoted as an urban-centric romantic flick along the lines of Mani Ratnam's hit flick.
'OK Kanmani', '100 Days of Love': On-screen Chemistry of Dulquer Salmaan and Nithya Menen
While the Kamal Haasan movie is a magnum opus movie in terms of its budget as well as settings, the "Roja" director's upcoming movie is probably the cheapest in his career, in terms of budget.