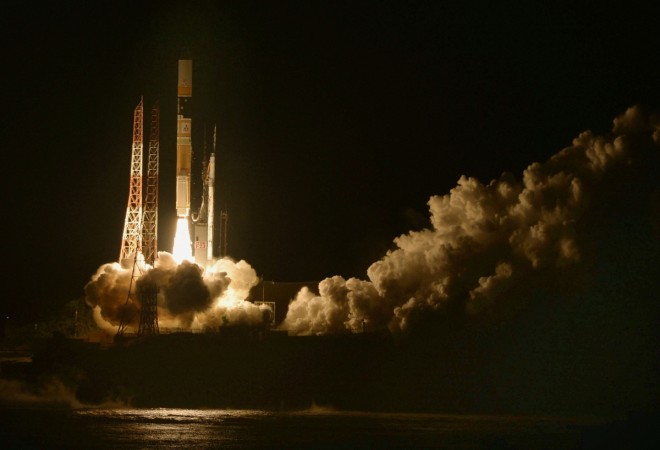 Japan's robotic H-II Transfer Vehicle-6 (HTV-6) is being launched today, December 9, 2016 at 1326 GMT (8:26 a.m. EST) from its Tanegashima Space Center.
Here's all you need to know about the Robotic HTV-6:
The spacecraft is loaded with water, experiment hardware and spare parts supply for six –person station crew which weigh above 4.5 tons, NASA revealed.
The unmanned cargo spacecraft is named – Kounotori, which means white stork in Japanese.
Each HTV resupply spacecraft carries the same name "Kounotori" unlike other resupply spacecrafts.
The spacecraft will take a flight to the station for a span of 4 days.
HTV-6 aka Kounotori 6 is the sixth H-II Transfer Vehicle, an unmanned cargo spacecraft which will be replenish the supply at the International Space Station (ISS).
At present, JAXA aims to send three more HTVs to the ISS, excluding HTV-6.
Japan plans to launch a total of nine HTV spacecrafts till the year 2020 commences.
HTV-7 spacecraft is scheduled to launch for 60 days' stay at the ISS in February of 2018.
In the next mission, HTV-8 will be launched for a 60-day stay in February 2019.
HTV-9 resupply spacecraft is planned to be launched in February 2020, again for a 60-day stay.
A plan to device HTV-X has already been approved officially by the Strategic Headquarters for Space Policy of the Cabinet Office in Japan's government.
In the beginning of 2021, HTV-9 will be substituted by HTV-X.
Check out the live streaming of the vehicle by NASA TV right here at 1300 GMT (8:00 am EST):
You could also check out the launching live on the Japanese Aerospace Exploration Agency (JAXA)'s YouTube channel over here: