The Grand Tour's second season is halfway through, and Richard Hammond has already destroyed two supercars — a Rimac Concept One and a McLaren 720S. While the aftermath of the Rimac car crash in Switzerland is well known, he embarrassed everyone by filling water instead of petrol in the McLaren's fuel tank.
Now, in the upcoming episode, Hammond will break another car and again end up being stranded by the roadside.
Also read: Watch The Grand Tour Season 2 Episode 5 online: It looks like an '80s action movie
In the trailer for The Grand Tour Season 2 Episode 6, Hammond is seen springing a leak under the bonnet of his Jaguar saloon.
The trailer shows the presenter trio going on a classic Top Gear-style road trip to Colorado in their old Jaguars.
Clarkson, Hammond, and May will be seen skiing in their cars to avoid the expenses of lift passes and ski equipment.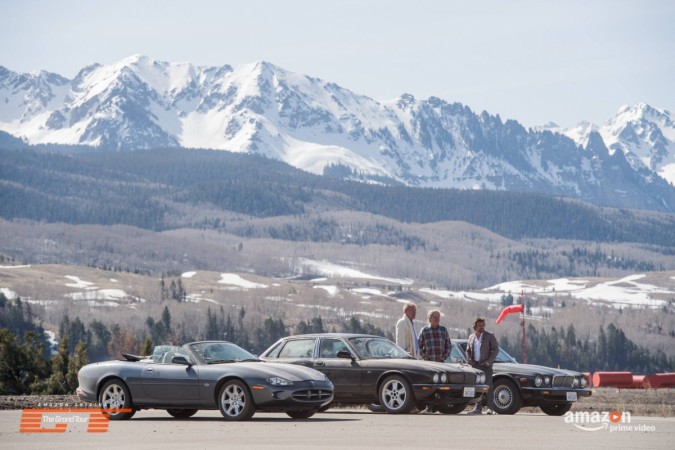 In this week's Celebrity Face Off, actor Luke Evans will go head to head against Kiefer Sutherland as it's a battle between "the world's fastest actor whose middle name is George".
Kiefer, well known for his portrayal of Jack Bauer in 24, is seen saying: "This morning was great! I have no idea if I've won.
"I think the nice thing about getting to my age is that over time you just lower your own expectations. I'm just so glad that I didn't hurt myself or anybody else."
On the other hand, the Beauty and the Beast star is heard saying: "It was fantastic, really fun and it was a beautiful day as well.
"Weirdly, my best lap was the one when I thought I wasn't even thinking about the lap itself. I'm quite competitive too, I never used to be as a kid but I'm much more as an adult."
The official synopsis of The Grand Tour Season 2 Episode 6 reads:
In this show, Jeremy Clarkson, Richard Hammond and James May set out to prove that old Jaguars are not only stylish and roguish, but also strong and reliable with a road trip across Colorado. Along the way they set laps around a punishing dirt track and test 0-100-0 performance at America's highest commercial airport before embarking on one of the most perilous challenges they've ever attempted; avoiding the expense of lift passes and ski equipment by going skiing in their cars. Also in this show, Celebrity Face Off finds the world's fastest actor whose middle name is George by pitting Luke Evans against Kiefer Sutherland.
Watch the trailer for the upcoming episode here:
The Grand Tour Season 2 Episode 6, titled "Jaaaaaaaags", is scheduled to arrive on Amazon Prime Video on Friday, January 12, at midnight.