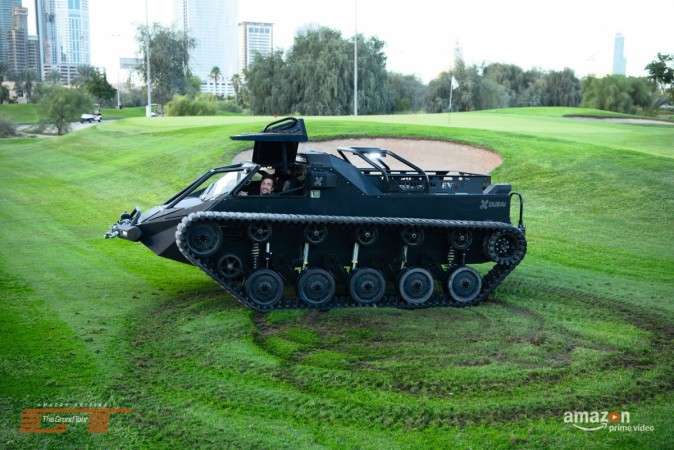 After crashing two supercars this season, Richard Hammond now will be seen rampaging through Dubai in a Ripsaw EV 2 in The Grand Tour Season 2 Episode 5.
Following last week's average unscripted episode, the trio will be back on the track with their usual offerings.
Also read: Watch The Grand Tour Season 2 Episode 4 online: Who is the 'world's fastest classical singer'?
While Hammond will be ruining a beautiful golf course with a tank-type high-speed tracked vehicle, Jeremy Clarkson will attempt to make a Ken Block's Gymkhana-style car skidding video using an old Subaru in a suitable swath of English farmland.
In the fifth episode of The Grand Tour Season 2 — Up, down and round the farm — Celebrity Face Off sets out to find the world's fastest person with a failed early career in a band as Preacher star Dominic Cooper goes head to head with comedian Bill Bailey.
Meanwhile, Clarkson's endeavours are swiftly dismantled by Richard Hammond and James May who are on hand in the studio tent to reveal some of the embarrassing behind-the-scenes footage.
Also, as per the official synopsis of the episode, James May makes a rare trip to the Eboladrome test track to try out the tiny Volkswagen Up! GTI.
Watch the trailer for The Grand Tour Season 2 Episode 5 below:
The Grand Tour Season 2 Episode 5 is scheduled to arrive on Amazon Prime Video on Friday, January 5, at midnight.
Catch a glimpse from the previous episode here: