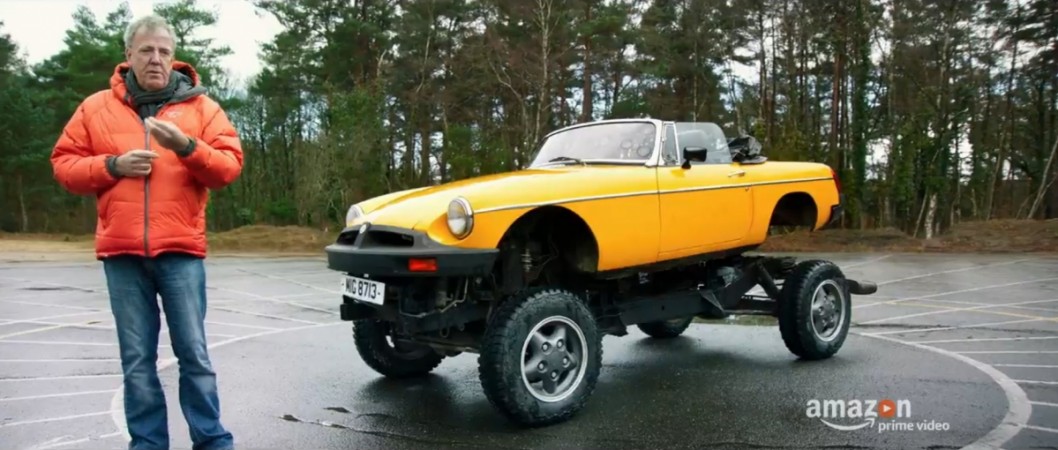 After spending a splendid adventurous journey in the Namib Beach Desert of North Africa, Clarkson, Hammond, and May have landed their tent next in Stuttgart, Germany.
Also read: The Grand Tour episode 7 and 8 review roundup: Are these the best episodes so far?
The new trailer of the episode 9 has just arrived and it has SUVs, bug-out vehicles & electric power in it.
Speaking about Germany, which is the home for Porsche, Clarkson said, "Germany's the last place you can drive a car as fast as it will go on the motorway."
James May is seen driving the new Honda NSX, while the trio are back on track with the Audi R8, Mercedes-AMG GT, and Porsche 911 respectively.
Clarkson makes a new type of SUV and tests it across the countryside. "I have created something which has alluded the might of the motoring industry."
In the meantime, Richard Hammond creates such a vehicle for him that will ensure his survival in the face of nuclear winters, alien invasions, and blood-thirsty zombies. "My vehicle is armour-plated. I feel invincible. Prepared. Ready," Hammond quipped about his vehicle.
Alongside, the official Twitter handle of British Army shared that they helped James May to check whether Hammond's vehicle is ready to survive a nuclear disaster or not. And, it turns out that it does not, unfortunately. Here's the clip below.
However, there was no glimpse of the Celebrity Brain Crash in the trailer as of yet, so we can presume that the nonsensical segment would not be there.
The episode 7 and 8 were aired on the eve of New Year, which was shot in the Namib Beach Desert. In those episodes, the trio was seen driving three beach buggies throughout the tour. The episode 6 that took place in Finland drew a bit of controversy as Richard Hammond pointed out ice cream as "gay people's food."
Watch The Grand Tour episode 9 live on Amazon Prime Video every Friday at one minute past midnight. Check the promo below.