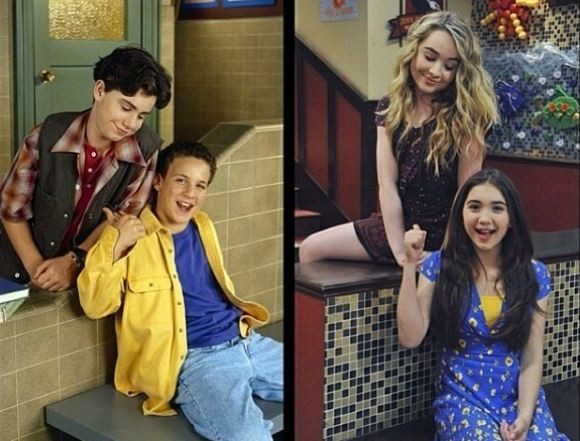 Riley (Rowan Blanhard) and Maya (Sabrina Carpenter) have been searching for the real Maya for a couple of episodes of "Girl Meets World" Season 3 now, but they are yet to find out. However, their search will reach completion in the upcoming Season 3 episode 7, "Girl Meets True Maya," and it will allow the girls to finally resolve the triangle of Riley-Lucas-Maya.
In "Girl Meets True Maya" fans will see Maya looking for the perfect opportunity to do something bad, something the old Maya would do. All her friends fear that it would be something too big, that Maya will not be able to come back from. Meanwhile, Maya herself starts wondering what her role in the group of friends is.
However, when it does come down to doing a bad deed, Maya realises that although she will always have more of an adventurous streak in her than her best friend she could never go back to who she was. The Dorothy in her would stop her from making terrible decisions. Dorothy is actually the taunting nickname Maya's old friends have for Riley, but Maya decides that it is what represents everything that is good in her.
Also Read: When will "Naruto Shipuden" Season 20 episode 468 air?
While Maya was busy trying to find herself, her friends have a conversation about where she is and what she is up to. During this time, Lucas happens to say, "Deep down, Maya is beautiful." Hearing this, Riley says, "Okay, calm down." Even when the show is not addressing the triangle as the main subject of an episode, the undercurrent of it is always present.
Based on how the story is going so far, it seems like Maya will realise that she does not like Lucas, especially since Josh (Uriah Shelton) is definitely making a comeback soon. However, Lucas seems to develop more of a crush on Maya than he does on Riley in the upcoming "Girl Meets Ski Lodge" series. The love triangle is definitely quadrupling and we have no idea how the writers are going to resolve it.
Watch Season 3 episode 7 of "Girl Meets World" at 8:30 p.m.(EST) on Disney Channel. You can also live-stream "Girl Meets True Maya" via Disney Go.