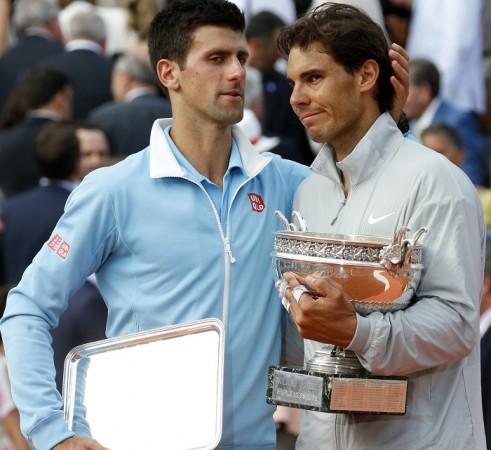 The ultimate French Open match that could and should have been a final is a quarterfinal in 2015 as world number one Novak Djokovic faces the man he hasn't been able to negotiate on the red clay of Roland Garros – Rafael Nadal.
It is the marquee match of the Federer-is-slowing-down-and-Nadal-and-Djokovic-have-take-centre-stage era, with the two greats playing each other a record 43 times already.
Nadal holds the slight advantage, having won 23 of them, but making it 24, even at a Grand Slam where he has lost just one match in ten years, will be extremely difficult.
Djokovic is in the form of his life, 14-0 on clay this year, and easily the best player in the world at the moment. Such is his form that he has made top players look like mere amateurs.
"He is very, very tough to play," Richard Gasquet, who suffered a 6-1, 6-2, 6-3 thrashing at the hands of Djokovic in the fourth round, said. "It's tennis made perfect, he plays perfectly on both sides, you know there is never a moment when you will be able to step into the court.
"It's like ping pong -- the ball always comes back."
Of course, the same can be said of Nadal as well – the unrelenting, top-spin machine, who has made the French Open his own over the past decade, winning it a record nine times.
The Nadal who has dominated the French Open over the years and the current Nadal are completely different players, however. This one is less of a machine, more fallible and definitely more beatable.
While most other players would have still struggled to topple Nadal, even this off-form one, Djokovic will go into the match confident, despite losing to the Spaniard in punishing matches over the last three years at Roland Garros, in the final in 2012, the semifinals in 2013 and in the final again in 2014.
Every time Djokovic has thought he has finally cracked the Nadal-clay-court code, he has been forced to take that step back, with the Spaniard always finding a way, even when not at his best.
That will be the plan for Nadal again, to just find those near-unreal never-give-up levels, as he looks to stop the favourite in his tracks in the French Open quarterfinals.
"[This will be the] toughest quarterfinal of my career," said Rafael Nadal. "The winner of the match will not be Roland Garros champion. He will be a semifinalist... that makes a big difference.
"Novak is probably the favourite here but I am here to fight."
However, this really should be the match that decides the title winner – because you feel if Djokovic beats Nadal, he will be too strong for Andy Murray or David Ferrer in the semifinals and whoever he runs up against in the final – Jo-Wilfried Tsonga or Stanislas Wawrinka.
If Nadal beats Djokovic in the quarterfinal, that confidence will be back to its highest, and that spring in his step should be enough to take him to a tenth title, even if he has lost to Murray on clay already this season.
"I could not ask for a better lead-up to that match," Djokovic said. "Playing him here and playing him in any other tournament in the world is completely different."
The other three quarterfinals are: Serena Williams vs Sara Errani, Timea Bacsinszky vs Alison van Uytvanck and Andy Murray vs David Ferrer.
Where to Watch Live
Get Djokovic reactions HERE
Get Nadal reactions HERE
Get the Djokovic vs Nadal Report HERE
The biggest quarterfinal of them all is scheduled to begin at the Philippe Chatrier right after the women's singles quarterfinal between Serena Williams and Sara Errani, which is set for a 5.30 pm IST (2 pm CET, 12 pm BST, 7 am ET) start. The second women's singles quarterfinal will also start at the same time, followed by Andy Murray vs David Ferrer on Suzanne Lenglen. Audience wanting to watch the blockbuster match and the other quarters as well in India can flip their remotes to Neo Sports and Neo Prime.
Viewers in the UK can watch Novak Djokovic vs Rafael Nadal Live on ITV or ITV Player, while audience in rest of Europe can go to Eurosport or Eurosport Player.
Audience in the US can watch all the quarterfinals matches live on NBC Sports and ESPN, with live stream options on NBC Live Extra and Watch ESPN.
Viewers catching the French Open action (read Nadal vs Djokovic) in Australia with a mug of coffee to stay awake can watch it on Fox Sports, while the action can also be live streamed on Foxtel Play. Listeners across the world can also listen to the quarterfinal matches live on Roland Garros Radio.