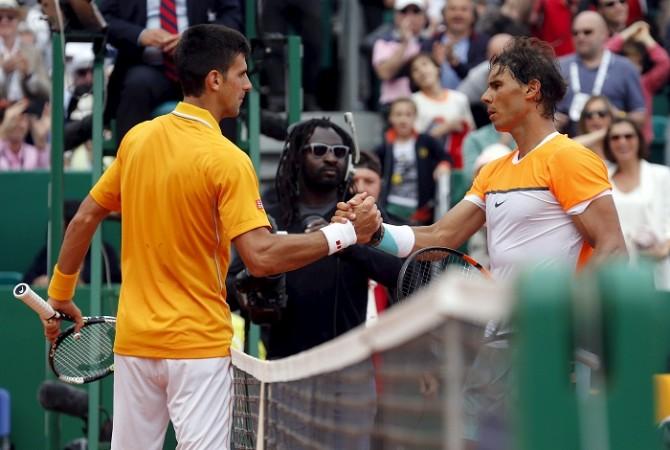 Novak Djokovic vs Rafael Nadal in the French Open quarterfinals – the match that everyone wanted when the draw was made. The two superstars of the modern game will go head to head for the first time in the quarterfinal stage of Roland Garros since 2006.
It need hardly be said Nadal has had a stranglehold on the rivalry at the French Open, with the Spaniard winning every single one of his matches. After all, he is the nine-time champion in Paris, losing just once, so famously (or infamously) to Robin Soderling, which in turn allowed Roger Federer to clinch his one and only French Open crown.
"That one and only Grand Slam I haven't won yet" feeling is what Djokovic, who has a slightly inferior head-to-head record against Nadal, having won 20 of their previous 43 matches overall, has at the moment, with the Serbian trying and falling just short, and trying again, and falling marginally short again in his attempts at lifting the Coupe des Mousquetaires.
Every time in the recent past it has been that man Nadal in front of Djokovic, the immovable object proving to be just that, just when everyone thought the Serbian was the irresistible force.
An irresistible force Djokovic certainly is at the moment, with the world number one playing like the best tennis player in the world. It is not just that Djokovic has won title after tile this year; it is the manner in which he has won it.
Very few players, if any at all, have been able to reach Djokovic's level this year, but if there is one tennis player capable of doing that, and that too on the red clay of Roland Garros, it is certainly Nadal.
This will be another of those irresistible force vs immovable object clashes, with Djokovic hoping to finally topple the near-untoppleable Nadal. There is no better time to do that, with Nadal having one of the worst years of his career, so worse that he has looked beatable even on clay.
The undisputed "King of Clay" has looked a lot better at this French Open, but Djokovic, as the Spaniard very well knows, will be a different proposition.
With every match that Djokovic has played against Nadal at the French Open over the last few years he has looked closer to picking up the elusive win, especially the semifinal in 2013, where a few points here or there and the result might have been different, and the final in 2014. And the way Djokovic is playing right now, that "please give it to me, please" win looks ever closer.
But what Djokovic will know is Nadal, no matter what form he is in, even if he looks like he is struggling with injury, or forgotten how to belt that forehand with ridiculous top-spin, is a different beast when it comes to the second Grand Slam of the year, and any, even the slightest drop in quality will be punished.
Djokovic has beaten Nadal before in the lead-up tournaments, much like this year, but it hasn't mattered. Djokovic has beaten Nadal in other Grand Slams before, but it hasn't mattered. Djokovic has even been the slightly better player in the match, but somehow, it hasn't mattered. When it comes to the French Open, Nadal wins and wins and wins and keeps winning.
Underestimate Rafael Nadal at your own peril; Djokovic, no doubt, will know that as well as anyone else.