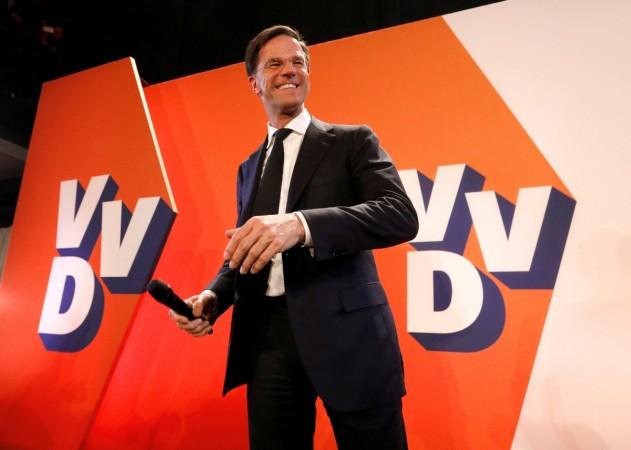 He can be a diplomat, but his humility is what has made him an internet sensation for all the right reasons.
We are talking about the prime minister of Netherlands Mark Rutte. He made the headlines in October last year for swapping the fancy set of wheels for a bicycle which he rode to the Royal Palace to meet the king of Netherlands. This time, the prime minister grabbed eyeballs and left netizens in awe after he got his hands dirty in the parliament, quite literally!
In a video that has gone viral on social media platforms, PM Rutte is seen grabbing a mop to clean up the mess he made after he accidentally spilled his coffee.
Witnessing this, the cleaners of the parliament cheered on loudly and also helped him as he could not figure out how to use the mop properly. He did not stop there as he later borrowed a piece of clothes as well to remove the stains.
Other bureaucrats including Alexander Pechtold from the Democrats 66 party and Sybrand Buma from Christian Democratic Appeal too were present on the floor.
Last year, Rutte made the headlines for riding his bicycle to the Royal Palace to meet King Willem-Alexander of the Netherlands. Known for his choice of wheels, the prime minister is often seen riding his bicycle even during office hours.
Hamid Mir, a Pakistani journalist, wrote on Twitter: "Sometimes Prime Minister can do the job of a sweeper but not in our part of the world only Mark Rutte the Prime Minister of Netherlands can act as a sweeper I am impressed by his humbleness and that's why he is very popular in Dutch people."
"Dutch prime minister Mark Rutte spills his coffee, takes mop from cleaner to wipe it up himself. Imagine all politicians were this humble/good humored," wrote a BBC News correspondent.
Mentioning the incident, another user wrote: "Will the self entitled and arrogant politicians learn some humility from this?"
You can check out some of the Twitter reactions below and also watch the viral video.
This story is literally just the fact that the Dutch prime minister spilt some coffee, then cleaned it up.

We have very low expectations of politicians in 2018 https://t.co/2vdcmp823x

— Claire Phipps (@Claire_Phipps) June 5, 2018
This is Dutch Prime Minister, dropped his coffee...
And see his reactions....
Wish our worthy Indian politicians could see this & act instead of doing photo op's for PM's Swatch Bharat.
? pic.twitter.com/yw14GbzBJc

— NammaNaMo19 (@NetHindu1) June 5, 2018