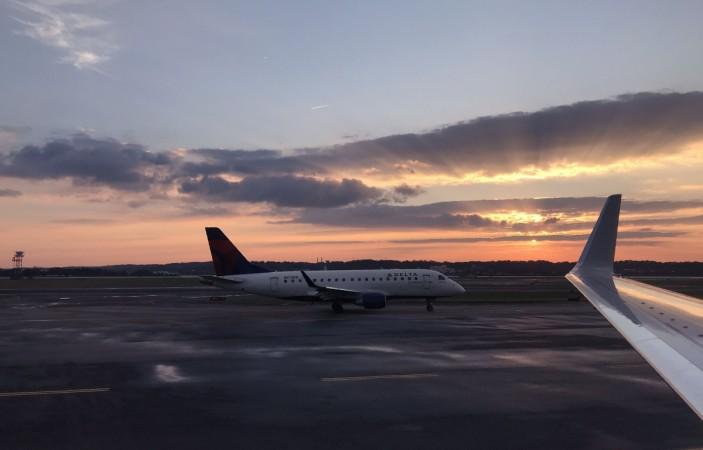 A Delta airline flight's landing gear caught fire shortly after making an emergency landing at the Hartsfield-Jackson International Airport in Atlanta, US, March 29. The flight traveling to Quito, Ecuador, had to make an emergency landing after it suffered a mechanical problem shortly after take-off.
According to the Federal Aviation Authority, the brakes locked up after landing and the main landing gear caught fire. However, the fire was quickly extinguished after the plane was towed to the gate.
There were 199 passengers on board and after the incident, they were taken to a replacement aircraft to continue their journey to Quito, CBS reported.
Footage showing the landing gear on fire was shared on social media by a passenger, who was on another flight. Passenger Ronnie Fernando, who shot the video, tweeted that the plane is on fire.
"Plane on fire on the runway at Atlanta Airport," Fernando said. "Speculation as to what it was... looked kinda significant."
A Delta spokesperson told The Independent that the flight landed safely and the fire was extinguished quickly.
"Flight 673 landed safely after returning to Atlanta for a mechanical issue. Upon landing, flames were noted and quickly extinguished on one of the aircraft's landing gears," the spokesperson said.
In March, a female passenger was injured after a cell phone caught fire on an Air Canada flight. She suffered first-degree burns after the phone caught fire, but she was able to walk off the plane. The incident happened March 1 when the plane was preparing to leave for Vancouver from the Pearson International Airport in Toronto, Ontario.
"The fire was immediately extinguished by crews and there was no damage to the aircraft," CTVNews.ca quoted Air Canada spokesperson Peter Fitzpatrick as saying.