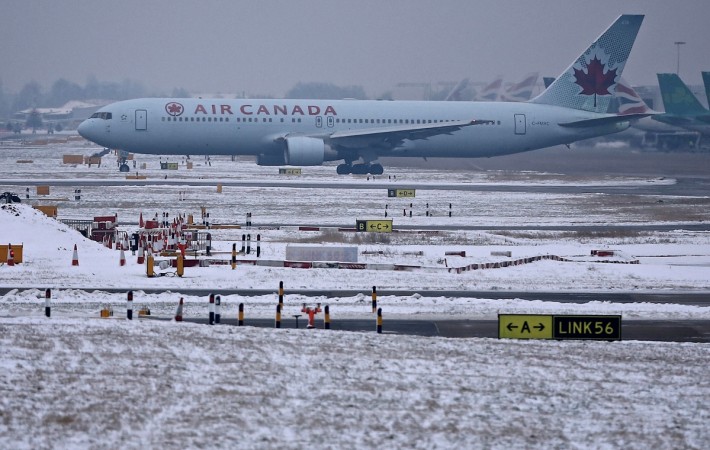 A female passenger on an Air Canada flight suffered first-degree burns after a cell phone caught fire. The incident happened on Thursday morning when the Air Canada flight AC101 was preparing to leave for Vancouver from the Pearson International Airport in Toronto, Ontario.
The passenger suffered severe burn injuries but was able to walk off the plane, CTVNews.ca reported. "The fire was immediately extinguished by crews and there was no damage to the aircraft," the publication quoted Air Canada spokesperson Peter Fitzpatrick as saying.
The fire caused the flight with 266 passengers on board to be delayed by approximately two hours.
The crew came to know about the fire when passengers reported black smoke from one of the back rows. Passenger Cathy Boote, describing the incident, said the owner of the phone tried to stomp out the flames.
Another passenger said people were jumping out of their seats on seeing the black smoke. "People were jumping out of their seats and in the aisle. It looked like a small campfire-sized flame," passenger Brandon Scott told CTVNews.ca. "If it was 20 minutes later, up in the air, it would have been a really serious situation."
Toronto city councilor Joe Cressy, who was also on the plane, praised the Air Canada staff. "I happened to be on the @AirCanada flight this morning where the cell phone fire incident occurred. The Air Canada staff were quick and professional in their response and the Pearson Fire crew were excellent. Thanks all around," he tweeted.
The model of the phone is unknown, and the passenger's details were not revealed either.
Dan Adamus of the Air Line Pilots Association told CTVNews.ca that cell phones catching fire isn't a big concern for pilots as it can be put out quickly. The main concern is lithium batteries that are shipped in mass quantities.
"The greater concern is when lithium batteries are shipped in mass quantities and shipped in the cargo hold — in particular when they're undeclared. That's when they can — and they have — take down an aircraft," he said.
What is first-degree burn?
A first-degree burn, also called a superficial burn or wound, affects the outer layer of the skin.
The burns cause minimal skin damage and usually don't need medical treatment, but some superficial burns might require you to visit a doctor.