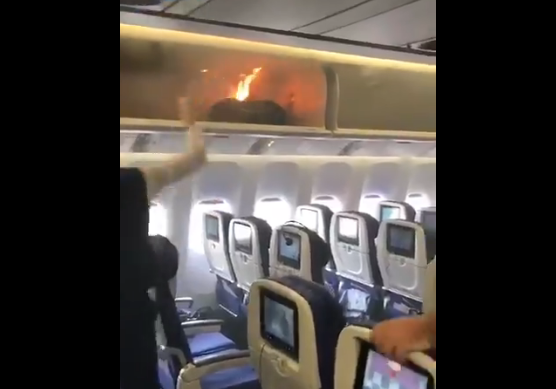 A video showing a China Southern Airlines flight attendant putting out a fire inside the overhead cabin of an aircraft has gone viral online. The short clip from the aircraft shows the woman throwing water on a bag that caught fire after a power bank exploded.
Passengers flying from Guangzhou to Shanghai on February 25, Sunday, were left shocked when they saw smoke and fire on the flight at the time of boarding.
According to Channel NewsAsia, the airline said in a statement on Chinese microblogging site Weibo that flyers were boarding the flight CZ3539 when smoke and fire was seen coming from a passenger's cabin bag.
The statement from the aircraft, as reported by the site, said the fire was put out with the help of the fire and security department. However, the video that has been doing the rounds online shows the onboard crew bringing the fire under control with the help of passengers.
The flight was delayed by three hours due to the incident. A replacement flight was arranged and it took off from Guangzhou Baiyun International Airport following the delay.
According to the news outlet, the passenger whose bag was on fire was taken into custody. The investigations found out that the power bank was not in use when it caught fire, the airline revealed.
The video of the incident quickly reached online and took no time to gain widespread attention.
Many users questioned the absence of a fire extinguisher on the flight when they saw the flight attendant using bottles of water and juice to douse the flames.
"They should have used a proper fire extinguisher!" a user reacted to the video. "The way they handled that was appalling," added another user.
Watch the video here: