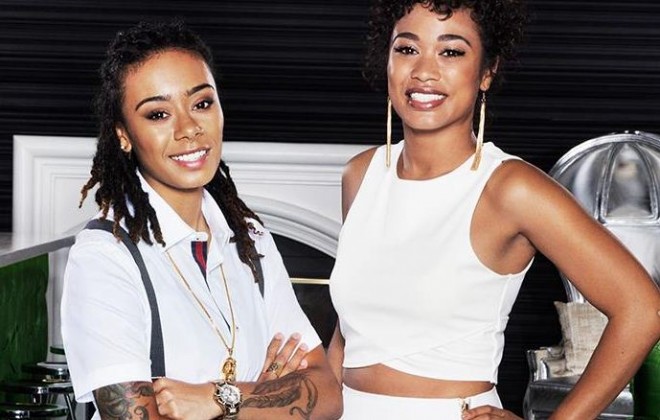 Since the beginning of "Twisted Sisters," fans of "Bad Girls Club" and the majority of the housemates had felt that something about Olivia and Diamond isn't right. In the upcoming episode 5, the truth about the alleged sisters is expected to surface.
Olivia and Diamond had joined the cast of "Bad Girls Club" Season 15 claiming to be half sisters who are both lesbians. However, their actions, especially in the club when they go dancing, scream a physical intimacy that is not associated with siblings.
Truth about Olivia and Diamond came in the form of a phone call from Olivia's friend. The sisters were sleeping and the call was picked up by Kristina. She learnt during the course of the conversation that Olivia does not even have a sister. She wasted no time in revealing this news to the rest of the girls and inevitably a fight broke out.
A promo for the episode also showed Olivia crying and revealing to her so-called sister that the truth is eating her up. In another shot, she is seen telling the cameras, "There is more to the story between Diamond and I that you know."
Also Read: "Love and Hip Hop Atlanta" star Mimi hiding girlfriend from daughter Eva?
There are two theories about Olivia and Diamond's relationship according to fans on Facebook. Either the girls have been lying all along and they are not sisters, or none of their friends know that they have a half sister. The possibility of the latter is greater because it would make sense for them to hide their blood relation from their friends as they are clearly attracted to each other.
As Ravenn Lovee points out, "I knew they weren't sisters, who in the hell grinds and humps their sister the way they do? Yeah, me and my sister close but not that close. [sic]" Also, remember that Diamond had said she wanted to marry someone like Olivia. People who think Olivia and Diamond aren't related believe they lied to get on the show.
Meanwhile, the other group of fans says that they are probably real sisters and only lied to the people back home so they could keep continuing to be with each other. Ra'Shawnna Avant points out, "They only HALF sisters so they think its okaay to be with each other but n their mind they know what they doing kinda wrong but they tryna keep it on the DL [sic]."
Fans will remember how Olivia tried to fool the rest of her cast members by claiming to have stage 3 cervical cancer. It shouldn't be a far stretch for the girls to lie about their relationship.
Find out the truth about Olivia and Diamond when Season 15 episode 5 of "Bad Girls Club" airs 8 p.m. (EST) Tuesday, April 12. You can also live-stream the episode via Oxygen website.