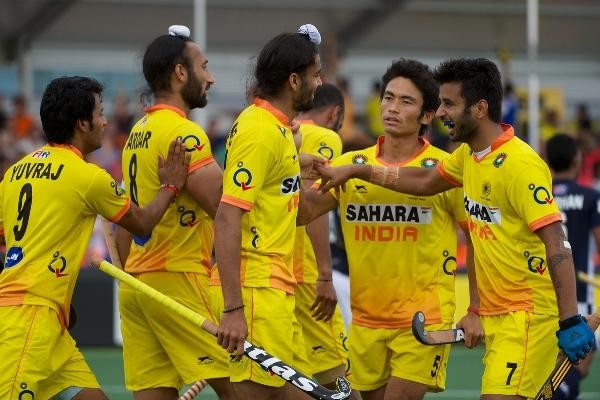 India vs Pakistan – there is nothing quite like it in hockey. Two archrivals giving no quarter, and asking for none, slugging it out like it is the only match that matters.
Get the Match report HERE
While that might not have been the case in the group stages per se, with both teams comfortably marching onto the semifinals from the same pool, the stakes have just been increased a hundred-fold – it is an India vs Pakistan final for the gold medal in the Asia Games, and perhaps, more importantly, an automatic place in the 2016 Rio Olympics.
Win it and you are heroes, lifted around on shoulders with that gleeful smile difficult to break; lose and you are cast into the shadows as another failed outfit, with foreheads shaking all around you as you look down in despair.
"We have made our entry to the final and our organisation and performance will be put to the highest test against Pakistan," chief coach Terry Walsh told Hockey India's official website. "Pakistan have their strengths and we will be working hard to capitalise on our strengths and put counters to theirs.
"This game will be a different contest to the group game. I believe we have the capacity and abilities to produce a quality performance at the right moment in the tournament."
That group game went Pakistan's way 2-1, and they will certainly take a lot of confidence from the victory. While the most recent history is in the favour of Pakistan, past history is also against India, who last beat Pakistan in a final of the Asian Games way, way back in 1966 in Bangkok.
The Asian Games record is definitely tilted heavily in Pakistan's favour, and the men in green will head into the contest as the slight favourites, owing to their superior head-to-head record in this tournament and the fact that they are, after all, the defending champions.
"We have won against India in last match that will give us slight psychological edge over them," Pakistan goalkeeper Imran Butt said. "Both the teams are technically on an even keel, but luck will also play an important role.
"Whoever handles pressure well will come up trumps."
India certainly handled the pressure well in the semifinal against South Korea, with Sardar Singh and co. coming up trumps courtesy a wonderful Akashdeep Singh goal. India were much the dominant side against Korea in that game, and Walsh will want more of the same from his team.
If India can control possession and pace the game according to their liking, then they will have a stranglehold on the contest against Pakistan. Skipper Sardar, India's chief orchestrator, will be vital to that cause.
"Considering the defeat against Pakistan in the last match, this final is going to witness a powerful bout from both the sides," said Sardar. "It will be a tough match and we are confident of delivering an even tougher fight with positive results this time."
It has been 12 years since India last reached the Asian Games hockey final, and 16 years since they last stood on the top of that podium with gold medals around their necks.
Surely, there is no better way to break that drought than against your biggest rivals.
Where to Watch Live
Get the Match Report HERE
Get the Live Blog + Score HERE
The game is set for a 7 pm local time (3.30 pm IST, 3 pm PST) start with live coverage on Ten Sports in India. Viewers in India can also catch the entire hockey gold medal match via live streaming online for free on Ten Sports Live.