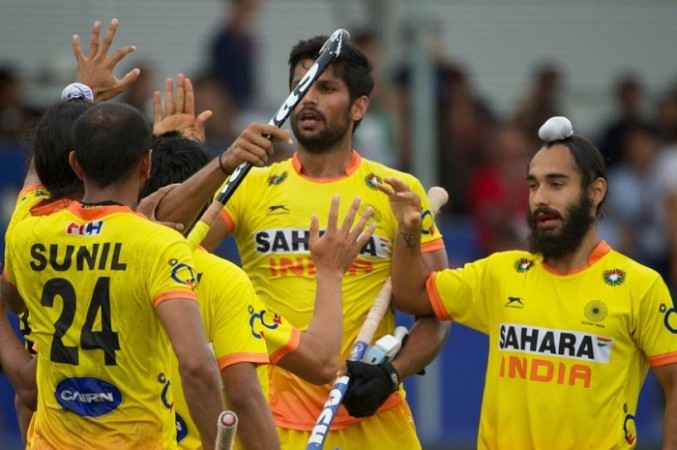 It had to be a nail-biter, a keeps-you-on-the-edge-of-your-seats-for-the-entire-match final; after all, it was India vs Pakistan. In the end, India persevered, past their spirited opponents and that pesky little shootout to come away with the Asian Games gold medal in the men's hockey event.
Staring down the barrel after an early goal from Pakistan, India roared back via Kothajit Singh, before the match eventually went to that "will they score hope not because this is too nerve-wracking" shootout.
In that shootout, PR Sreejesh showed exactly why he is such a highly-rated goalkeeper quelling a couple of Pakistan forwards to fashion a 4-2 victory.
It was end-to-end attacking hockey for quite a bit of this brilliant Asian Games 2014 hockey final between the two hockey powerhouses in Incheon, and Pakistan made a blazing start, scoring the opening goal within the first three minutes.
Pakistan sprung forward on a blink-and-you-will-miss-it counter-attack, with Rizwan Muhammad finding himself with enough space inside the Indian circle to build a bungalow. The Pakistan man made no mistake with the finish, slotting the ball past Sreejesh to give his team an early lead.
The men in green were the much enterprising side in the first quarter, looking sharper and quicker in their attacks, while India laboured a little.
However, the second quarter saw a much-transformed India team come out, and the attacking suddenly became more purposeful, with a sustained spell of pressure eventually giving them that equaliser.
With a few minutes remaining in the second quarter, India made it 1-1 via Kothajit Singh, who brilliantly deflected the ball into goal off a pass Gurbaj Singh.
India looked to score that third goal of the match as well, and if not for some brilliant saves from goalkeeper Imran Butt, before and after the second goal of the match, the scoreline would have read differently.
Pakistan seemed to fade as the match wore on, even if they made one final rush in the last few moments of regulation time, while India failed to grab those half-chances which came their way.
However, with both teams petrified of conceding that decisive goal, the match inevitably went into the shootout.
In that shootout, Sreejesh was the star, staring down the Pakistan attackers through his helmet and making himself big and as close to impenetrable as possible to give India the stunning victory.
Celebrations were loud and louder at the end of the final whistle as India not only won their first gold medal since the 1998 Asian Games, but, more crucially, booked their place in the 2016 Rio Olympics.