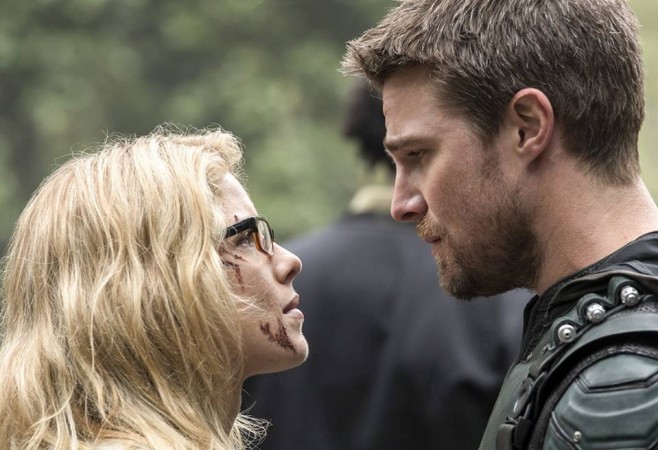 Arrow, the CW supernatural drama series, will feature some unexpected challenges for Oliver Queen in episode 7 of season 6. This chapter is titled Thanksgiving and it is scheduled to air on Thursday, November 23, at 9 pm EST.
Here is the official synopsis for the seventh episode:
Oliver celebrates Thanksgiving with his family but the happy moment is interrupted. Meanwhile, Black Siren returns to wreak havoc on the holiday.
Also read Arrow season 6 spoilers: Stephen Amell teases happiness for Oliver Queen
Cast member Stephen Amell has already teased a happy ending for Oliver and Felicity. He said that it's "a pretty safe bet" to think that they are moving back in together.
"It works like every other holiday or moment that should be fun, which is to say that it goes to shit almost immediately, like in Act One. But, it ends on a relatively happy note," the actor said in an interview with Den Of Geek.
Amell also said that Oliver's relationship with William will not really affect his reunion with Felicity. "I do think that Oliver's relationship with William, it has changed things forever. I don't know where it ends up, but it's not like we are going to erase him having a son. It's now part of what we are doing," he explained.
Click here to watch Arrow season 6 episode 7 online via live-streaming. The CW superhero series will also be available online here.
Meanwhile, the CW will feature a special crossover episode between Arrow, Supergirl, The Flash and Legends Of Tomorrow next week. The chapter is titled Crisis On Earth-X, Part 2 and it is scheduled to air on Monday, November 27.
Check out the short summary for Arrow season 6 episode 8 below:
Barry and Iris's wedding brings the gang together, but things go awry when villains from Earth-X attack the ceremony. All of the superheroes band together with help from their super friends like Citizen Cold, The Ray, Felicity Smoak, Iris West and Alex Danvers to take on their most formidable villains yet. Earth's mightiest heroes - Green Arrow, Supergirl, The Flash and White Canary - lead their teams into battle to save the world.